No, Trudeau hasn't begged Kenya to send a million immigrants to Canada
Articles falsely claiming that Canadian Prime Minister Justin Trudeau has begged President Uhuru Kenyatta to send one million Kenyan immigrants to the North American country have been circulating online. A near-identical report previously made the rounds in Nigeria. As with the Nigerian version, Canadian authorities have dismissed the reports about Kenya, calling them "fake news". Canada is indeed seeking to take in a million more immigrants before 2021, but not from any one particular country.
The claim was published on a website identified as CBTV, which we've archived here. It contained alleged quotes from Trudeau and a spokesperson for the Canadian Labour Department.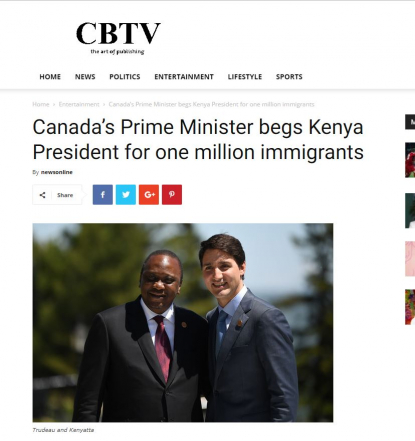 Screenshot taken on May 17, 2019 of the false report published by CBTV
CBTV used the exact same quotes in its false article about Canada seeking a million Nigerian immigrants -- simply changing the name of the country and "West Africa" to "East Africa". Every other detail of the story is identical. We debunked the Nigerian story here.
In Kenya, similar claims were shared here and here, based on the CBTV version. The three posts have generated more than 12,000 interactions on Facebook between them, according to data from social media analysis tool CrowdTangle.
However, as with the Nigerian story, the Canadian High Commission in Kenya dismissed the claim as bogus in a May 2 tweet.
???? ???? ?????! If you have seen this link on your social media timeline, ???'? fall for it. For ???? information about immigrating to Canada ??, go to : https://t.co/HoIyNjKM2z pic.twitter.com/WEksUYJOLj

— Canada in Kenya (@CanHCKenya) May 2, 2019
According to the government's 2018 Annual Report to Parliament on Immigration, Canada plans to welcome about one million immigrants between 2019 and 2021.
The report does not single out any country where these immigrants are meant to come from.
"Canada will welcome more talented workers with the skills and expertise our economy needs, reunite more family members and accommodate more refugees looking to start new lives," the report reads.
In Canada's 2016 census, 27,150 people identified themselves as Kenyan immigrants.