No, this clip does not show Indonesia's national anthem being played at a UN meeting
A video that has been watched tens of thousands times on Facebook purports to show Indonesian national anthem "Indonesia Raya" being played during a United Nations meeting. The claim is false; the clip actually shows the song being performed in a musical event held at a concert hall in Indonesia's capital Jakarta.
The video can be seen in dozens of Facebook posts, for example this May 10, 2019, post where it has been viewed more than 3,200 times since.
The post's caption, translated to English, reads: "Indonesia Raya at the UN meeting. Conductor Adhi MS."
Below is a screenshot of the misleading Facebook post: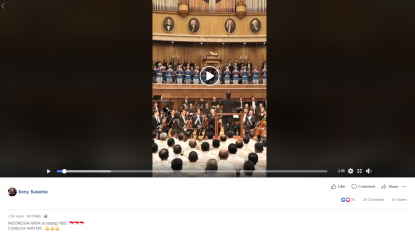 Screenshot of misleading Facebook post
The caption is referring to prominent Indonesian conductor and music producer Addie MS. This is his official website.
This video appeared also on other dozens of Facebook posts, according to results of a query in the social media platform's search engine box, including here and here, where it has been viewed respectively over 15,000 times and 7,600 times since.
But the video does not show the anthem being played at a United Nations meeting.
AFP ran key frames of the video obtained using digital verification tool InVid through a Google reverse image search.
This led to this video that was shared on YouTube by the conductor Addie on May 6, 2019.
The original video shows Addie's Twilite Orchestra and the Indonesian military music corps performing the national anthem at Aula Simfonia Jakarta -- a concert hall in the Indonesian capital.
The original YouTube video's caption reads:
"Fanfare TNI - Indonesia Raya
TNI Headquarters' Music Corps
Twilite Orchestra
Conductor: Addie MS
Aula Simfonia Jakarta"
TNI refers to the Indonesian military. Here is the official Facebook page of their information department.
Photos of the concert hall can also be seen in the official website of Aula Simfonia Jakarta here and here.
Below is a screenshot of the concert hall photo as seen on its official website:
Screenshot of the Aulia Simfonia Jakarta official website
Both videos are 2 minutes and 9 seconds long. However, in the Facebook version, the genuine footage posted by Addie MS on YouTube has been cropped.
Below is a picture comparing the video on Facebook and the original one: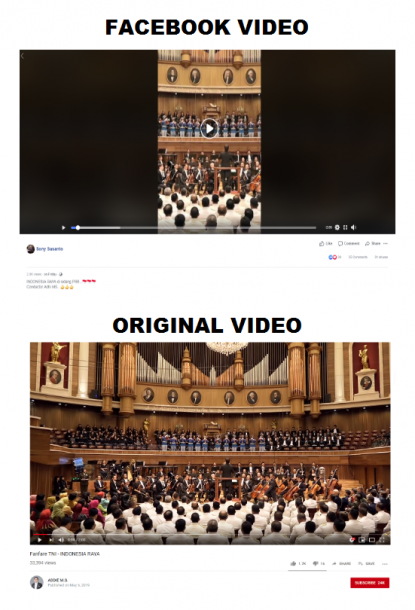 Screenshot comparing the Facebook video and the genuine YouTube video
Addie also posted the video on Twitter on May 7, 2019, which can be seen here.