No, these two photos do not show the same glacier ten years apart
A collage shared several hundred thousand times on social media as part of the "ten year challenge" shows two photos that suggest a glacier shrank in size due to the melting of the polar ice caps. The juxtaposition is misleading: the photos were taken in different places two years apart.
In theory, the "ten year challenge" invites social media users to publish two photos of themselves side by side, with a ten year difference. In this variation on the challenge, posted on January 14, the juxtaposition with the caption "#tenyearchallenge" is misleading.
Screenshot of a tweet on January 17, 2019
The image is meant as a statement on the scientifically proven impact of global warming on glaciers. However, neither the original post nor those who shared it specify that the two photos were not taken in the same place or ten years apart.
Nicolas Bilodeau, the Twitter user who posted the image, told AFP that he wanted to show "other things that changed in ten years and could provoke reactions." The communications specialist from Quebec added that he originally wanted "real images of real glaciers from 2019 and 2009, but the research too complicated so I picked two glaciers that could quickly show that there were changes in ten years," a choice he justified as "artistic license".
The photo on the left was taken by NASA scientist Jeremy Harbeck. Dated November 5, 2016, the frame shows the Getz Ice Shelf, in Western Antarctica. Here it is on NASA's website.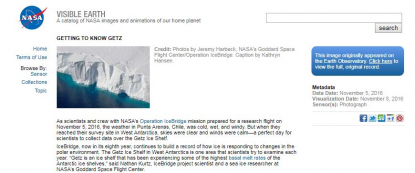 Screenshot of the NASA website on January 19, 2019
The photo on the right shows the remains of an Arctic ocean ice shelf; it was taken in August 2018 by National Snow and Ice Data Center (NSIDC) scientist Julienne Stroeve. Here it is on the website.
Screenshot of the NSIDC website on January 16, 2019
The impact of climate change on glacial ice  is real.
As this AFP story from December 2, 2018 explains, " Arctic sea ice cover is declining at a rate of more than 13 percent per decade, relative to the 1981-2010 average."
At the same time, the yearly melting rate of ice in Antarctica is now faster than ever, about six times faster than forty years ago, which leads to an ever higher rise of global ocean levels, scientists warned on Monday. By their estimations, Antarctica lost on average 40 billion tons of glacial mass per year between 1979 and 1990. This number rose to 252 billion tons per year between 2009 and 2017.