No, these photos do not show Pakistan conducting new warplane exercises on a motorway
Multiple Facebook posts share three photographs that they claim show Pakistani fighter jets conducting new war exercises on a motorway. The claim is false; the images are old photographs from Germany, China, and Pakistan.
The Facebook posts, for example this one which was uploaded February 20, share the photographs with a caption saying: "Warplanes start exercises on motorway. If it is like that, so be it."
The post contains three photographs of warplanes, two of them are landing on a motorway, while a third is pictured flying.
Below is a screenshot of the misleading Facebook post:
Screenshot of misleading Facebook post
The images have been shared repeatedly, for example here, here and here on Facebook, and here on Twitter.
India's military has said that its jets carried out airstrikes in Balakot on February 26, 2019, hitting militants camps in retaliation for a suicide attack in Indian Kashmir on February 14, 2019 which left 41 Indian soldiers dead.
Pakistan's military rejects that account and says that after Indian planes intruded into its airspace, it scrambled jets and chased the Indian planes out. Pakistan said February 27 that it had shot down two Indian fighter jets in Pakistani Kashmir.
Here is an AFP story on the situation.
A reverse image search found that the photographs used in the misleading posts date from 1984, 2010, and 2016.
The first photo in the misleading posts shows a 1984 NATO training exercise in West Germany.
The image shows a NATO military plane landing on the Ahlhorn Highway Strip, according to this online directory of Cold War airfields, where the image is published with the source given as: "DoD, photographer TSGT ROD PROUTY".
The image, which is available on Wikimedia Commons, a free media repository, has also been published by CNN here in a travel piece on war tourism sites in the former West Germany.
Screenshot of original image on CNN website
The CNN photo caption reads: "Autobahn airfields: An unsuspecting strip of concrete next to the roaring traffic on Autobahn 29 was where massive C-130 Hercules transport planes and A-10 Thunderbolt fighter planes landed and took off during NATO exercise 'Highway 84' in 1984."
The second photo in the misleading posts shows a Pakistan Air Force fighter jet mid-flight.
The original image was taken on November 18, 2010 in China and shows a Pakistan Air Force Chengdu JF-17 Thunder, according to this post on JetPhotos, an aviation photography database.
Screenshot of original image on JetPhotos website
The image is also available for free to download on Wikimedia Commons here.
The image has been widely used as a stock illustration photo, for example here in 2014 in the Minsk Herald, and here in 2016 in The Diplomat.
The last photo in the misleading posts is from a 2016 Pakistan Air Force training called "Exercise High Mark-2016".
The exact same image that is used in the misleading posts can be seen in this AbbTakk TV report and this report by NewsOne TV, both of which are dated September 22, 2016.
Screenshot of original image on News One TV website
Here is a September 22, 2016 Reuters report published by Pakistan's Express Tribune newspaper on the motorways being closed for the military drill.
The 2016 military exercises also appeared on social media at the time, for example here is footage showing the landing and refuelling of air force jets posted to Facebook September 22, 2016.
Pakistan's motorway police said in a statement sent to AFP by WhatsApp message that the reports claiming Pakistani jets were conducting war exercises on a motorway were "totally baseless".
"The motorways are open for all traffic. The news on social media is totally baseless," the statement said.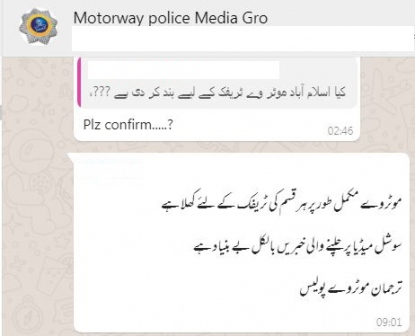 Screenshot of Pakistani police statement