No, these photos actually show a scene from a Syrian television drama series
Six photos have been shared repeatedly in multiple posts on Facebook alongside a claim they show a public execution of a pregnant woman in Pakistan. The claim is false; the photos have actually been captured from a Syrian television drama series set in 1920s Damascus.
The photos were published in this Facebook post on October 16, 2020. 
They show a sequence in which a noose is hung around a crying woman's neck.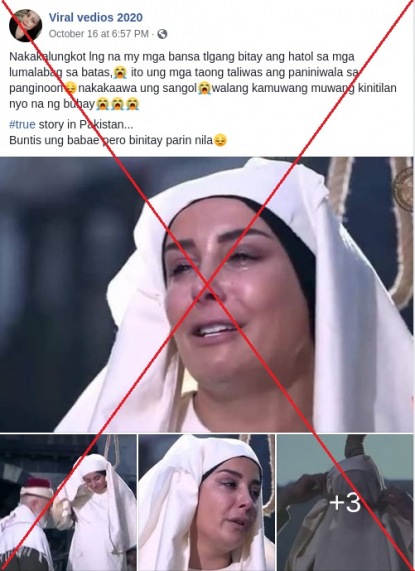 A screenshot of the misleading post, taken on October 22, 2020
The post's Tagalog-language caption translates to English as: "Heartbreaking that there are countries that hang lawbreakers, these are people with beliefs contrary to god, pity the innocent baby whose life you took away / #true story in Pakistan… This woman is pregnant but they still hanged her".
The photos were also shared on Facebook here and here, alongside a similar claim.  
The claim, however, is false.
A reverse image search on Google and subsequent keyword search found all six photos match frames in this YouTube video, published on June 15, 2017. 
The video's Arabic-language title states: "A noose around Khatoon's neck, sequence from Khatoon series, season 2 episode 20".
Khatoon is a television drama series that aired in Syria in 2017, starring Moatasem Alnahar, Caresse Bashar and Salloum Haddad. According to online movie database IMDb, it tells "a love epic story that took place during the French occupation of Damascus".
Below is a set of screenshot comparisons between the photos in the misleading posts (L) and keyframes in the 2017 YouTube video (R):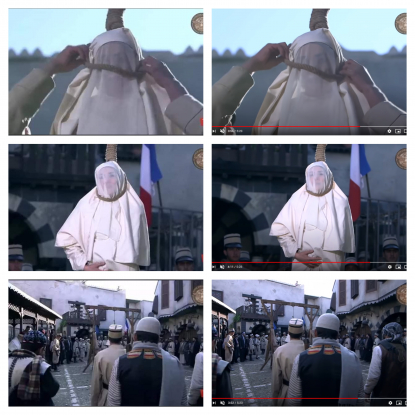 Screenshot comparison
One of the photos in the misleading posts can also be seen in this Arabic-language report about the television series by UAE-based magazine Foocia, published in January 2020.