This image shows children taking a nap under a tree at a school in Nigeria, not in South Sudan
An image of children sleeping under a tree being has been shared hundreds of times on Facebook, alongside the claim that it shows schoolchildren in South Sudan. However, the claim about the location is false; the photo was taken in Nigeria at a neglected school that was later renovated by an outreach organisation. 
The photo was posted to Facebook here on September 16, 2020, with the caption: "Peter Makal, a teacher at a primary school in Juba, was seriously confused after he prepared the lesson for his class, but found them asleep following their breakfast."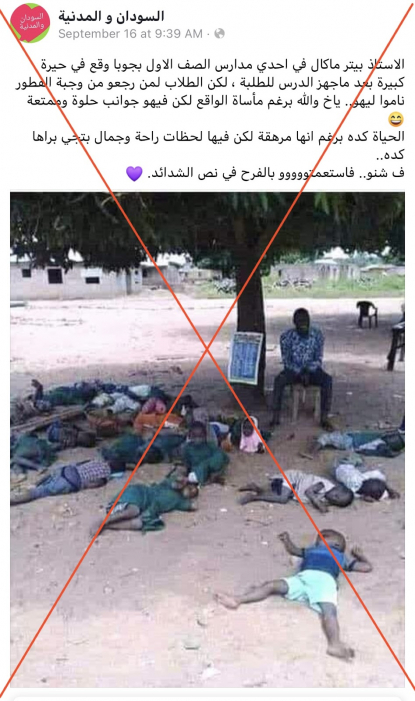 Screenshot of the misleading Facebook post taken on October 20, 2020
Juba is the capital of South Sudan.
In the image, more than a dozen small children are seen asleep beneath the shade of a tree while a man sitting on a chair keeps watch. Next to him is a small chalkboard.
The photo was also posted with the same claims on Facebook here, here, here, and here.
While the image is genuine, the claim that it was taken in South Sudan is false. 
Children under a tree in Nigeria
AFP Fact Check conducted a reverse image search that led to an article from October 17, 2017, published on a Nigerian online news and entertainment website called Kemi Filani News. The headline reads: "Viral photo of primary school pupils sleeping under the tree in Kwara state." 
According to the brief report, the photo shows children from a local school in Mancha village, Edu, in Nigeria's Kwara state.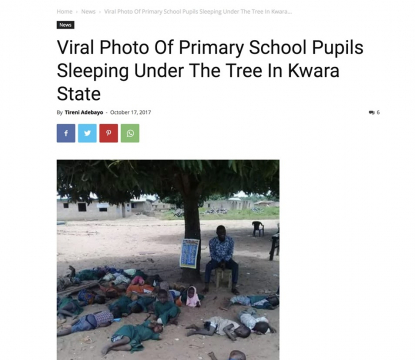 Screenshot of the article on Kemi Felani News website taken on October 20, 2020
Similar articles were published in several Nigerian blogs and websites in the same year, such as Nigeria Newspaper, GistMania, and Nairaland.
Another reverse image search result led to the Facebook page of the Ask The Paediatricians Foundation and a post by them on November 3, 2017, containing the same photo along with an appeal for donations to help renovate the school in Mancha village, Kwara state.
"We need your support to get these children back to their classrooms!" reads part of the caption, which includes bank account details for donations.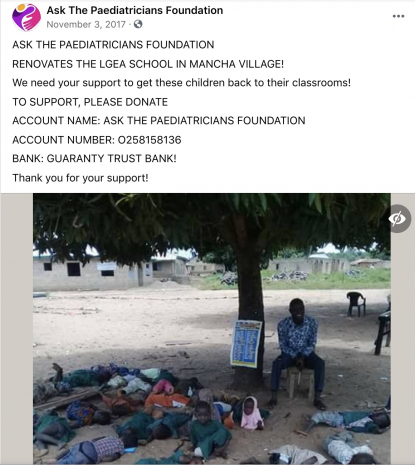 Screenshot of the misleading Facebook post taken on October 21, 2020
AFP Fact Check contacted Ask The Paediatricians Foundation, whose representatives confirmed their involvement in the fund-raising effort and supplied other images of the school, also available on their website, taken before and after the renovation work.
Photos of the school before and after renovation, supplied by Ask The Paediatricians Foundation
The foundation, which focuses on children's health and welfare through various outreach programmes, had renovated existing classrooms and provided furniture and stationery to the school in 2018.  
"When we saw the state of learning on the viral picture posted on Facebook ... of children in a school sitting and sleeping on a dirty muddy floor under a tree to learn, we just couldn't look away," said the Lagos-based foundation's Vera James in an email to AFP Fact Check. "Though it was a huge task for us at the time, we had to do something about it. It was disheartening seeing Nigerian children learning under such conditions. Beyond the fact that that was a very uncomfortable learning environment, it was also a source of several skin infections, which could be fatal to children's health and wellbeing."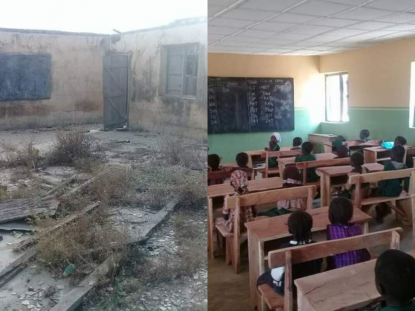 Photos of the school before and after renovation, supplied by Ask The Paediatricians Foundation
"The project was commissioned in January 2018, with a medical outreach for over 500 hundred children in the community," James said. "The outreach covered paediatric consultations, nutritional status checks, medications, healthy meal packs, among others."