No, these are not African slaves at a market in Libya
Widely shared Facebook posts claim that two African women pictured in the back of a pick-up truck and surrounded by soldiers are examples of slaves being sold at a market in Libya. In reality, however, the picture snapped by a Reuters photographer in December 2016 shows women and children - some of them migrants - who were freed from the besieged city of Sirte when Libyan forces ousted Islamic State fighters.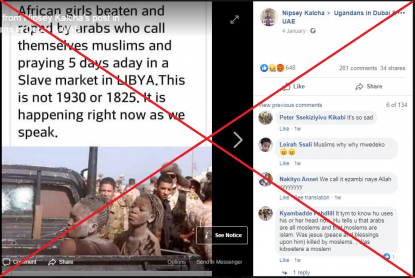 A screenshot of a Facebook post claiming African women are being abused at a slave market in Libya
The Facebook post above, from 4 January, has clocked up more than 70,000 views. The picture shows two dust-covered women in the back of a truck, surrounded by men in army camouflage. The post uses the image to claim that African girls are suffering sexual and physical abuse at a modern-day slave market in Libya.
These posts here and here make the same allegations to convey similar anti-Arabic and Islamophobic sentiment. Between them, the three social media posts have been shared hundreds of times. 
Another screenshot of a post suggesting women are being abused and enslaved in Libya
But while the picture was indeed shot in Libya, it does not show women being sold at a slave market. It was one of many taken on a dramatic day by Reuters photographer Hani Amara on 6 December, 2016 as Libyan forces moved through the city of Sirte and cleared it of combatants loyal to Islamic State.
Women and children were among those freed from the clutches of the militants, including the two women seen in the photo.
Amara confirmed to the AFP bureau in Libya's capital Tripoli that he shot the picture on the day of Sirte's liberation from Islamic State.
The screenshot below comes from the Reuters news agency's website and is watermarked to denote copyright ownership.
A screenshot of the original photograph with the Reuters watermark
Amara's caption accompanying the picture reads: "Women sit in a pickup truck after they were released by Libyan forces from Islamic State-held ground as forces clear Ghiza Bahriya, the final district of the group's former stronghold of Sirte, Libya December 6, 2016."
Here is a written AFP account of the fighting can be found.
Amara has documented his coverage of the events in Sirte on December 2016 on his Twitter account.
December 15, 2016
December 15, 2016


In May 2019, Amara was shot and wounded while covering fighting in Libya's capital, Tripoli.
Violence continues to blight Libya, between forces from the UN-backed Government of National Accord, based in Tripoli, and loyalists from the opposition Libyan National Army, under the control of General Khalifa Haftar.
However, peace talks are on the cards after a push by Turkey and Russia to bring an end to the fighting.
For more on the difficulties and dangers of reporting in Libya, read this AFP blog post here.