No, a rent-a-crowd did not rally to demand money for protesting against Philippine President Rodrigo Duterte
An online post claims hundreds of people rallied at an opposition party headquarters to collect money promised to them for staging a protest against Philippine President Rodrigo Duterte. The report cites a non-existent police officer and misleadingly uses a photo from an unrelated protest years earlier. Police also say the rally at the opposition party headquarters did not occur.
This online post claims more than 600 people gathered at the headquarters of the opposition Liberal Party (LP) to demand money allegedly promised to them for joining in an anti-Duterte rally during his annual address to the nation in July.
The main source of the post, which has been widely shared on Facebook groups that support Duterte, is a person identified as police Inspector Napoleon Caguitla. His purported quote in the story is below.
However the Philippine National Police records management division told AFP it had no record of an officer by that name.
Below is a copy of a document given to AFP in response to a request for information about the alleged officer.
The picture of angry demonstrators that accompanies the account was also not taken at the Liberal Party headquarters in July as claimed in the false report.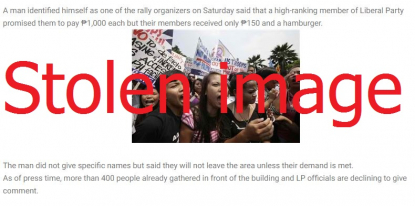 Snapshot of false report
A reverse image search also shows that the photo is of a 2014 protest at the US Embassy in Manila against then-US president Barack Obama. The photo is attributed to the Associated Press, an international wire agency.
The photo was used in reports published by international news organizations nbcnews.com  and dailymail.co.uk.
The chief of police in Quezon city, where the Liberal Party is headquartered, also told AFP there was no record of such a protest between July 23, the date of Duterte's State of the Nation Address, and August 2. 
"As per station commander police station 7, negative report," Quezon City Police district director Chief Superintendent Joselito Esquivel Jr. told AFP in a text message on August 2.
The false report did not specify the date of the purported rally but it first appeared on Facebook on July 26 and was shared by the pro-Duterte groups over the next three days.
The online claim has attracted more than 13,000 interactions, including more than 2,300 shares that could have reached nearly 900,000 Facebook accounts, according to data by social media monitoring platform Crowdtangle.
AFP published a fact-check on July 31 about another false report promoted on pro-Duterte Facebook groups that manipulated an image of protesters rallying against the president to make it appear they were supported him.