No, this picture shows a newborn in the arms of her great-grandmother
A picture of an old woman holding an infant in a hospital bed has gone viral several times since it was first published online, most recently with the claim that it shows a baby in the arms of its 103-year-old mother. This is false -- the woman is the baby's great-grandmother -- and follows on the heels of a similar hoax report that AFP debunked last year.
This Facebook post, published on November 8, 2019, has clocked up more than 121,000 shares.
A screenshot taken on January 28, 2020, of a Facebook post claiming the woman in the picture gave birth at the age of 103
It describes how an elderly woman gave birth at the age of 103 after "many years of praying, fasting and crying".
The claim has also appeared here, here and here since 2018.
In the past, the picture has been published alongside at least two more false claims, one of them debunked here by AFP in November last year.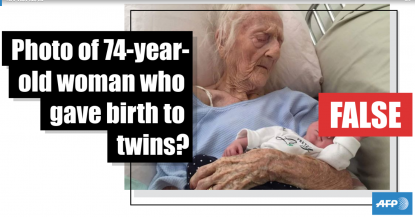 A screenshot taken on January 24, 2020, of a header image from a previous AFP fact check
Another claim (here, here and here) accompanying this photo told readers of a controversial ovarian transplant procedure that doctors purportedly carried out on 101-year-old Italian Anatolia Vertadella, allowing her to fall pregnant and give birth.
A screenshot taken on January 24, 2020, of a photo purportedly showing the doctor behind the ovarian transplant
A "Dr Alexandro Popolicchi" was named as the medical expert behind the procedure and a photo purportedly showing him featured a bearded man in hospital scrubs.
But a Google reverse image search revealed the image was that of Dr Sherman Silber, the managing director of The Infertility Center of St Louis in the United States.
The story of "Anatolia Vertadella" was first debunked in 2016 by Snopes but continued to circulate online.

What's the real story?
The Huffington Post reported that Rosa Camfield was 101 when the now-famous picture was taken of her by her granddaughter Sarah Hamm in March 2015, two weeks after Hamm delivered baby Kaylee. Hamm was interviewed by The Huffington Post and multiple other US news outlets.
The image made its way to a Facebook page called Life of Dad, where it went viral with more than 79,000 shares.
Camfield died less than two weeks after the picture shot around the world, sparking renewed media interest (see here, here and here).
A screenshot taken on January 3, 2020, from an online report carrying news of the death of Rosa Camfield