No, this is not a real video of US House Speaker Pelosi slurring her words onstage – the footage has been doctored to slow down her speech
A video that purports to show US House Speaker Nancy Pelosi slurring her words at a conference been viewed millions of times in social media posts that claim she is unable to speak properly. The claim is false; the footage has been doctored; Pelosi's speech has been slowed down.
This video has been viewed more than two million times and shared nearly 50,000 times since being published to Facebook on May 22, 2019.
The post's caption reads: "House Speaker Nancy Pelosi on President Trump walking out infrastructure meeting: 'It was very, very, very strange.'"
Below is a screenshot of the post:
Screenshot of the doctored video
In the comment section of the post, Facebook users said that the video showed Pelosi was "drunk" and "a babbling mess".
Below is a screenshot of comments on the post, with the users' identities redacted: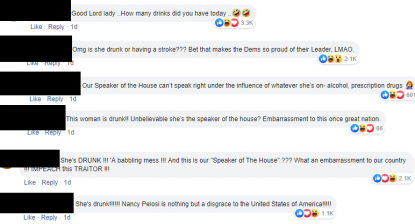 Screenshot of comments on the post with the users' identities redacted
The clip has been shared widely on social media, for example here and here on YouTube. 
It was also shared here and here on Facebook, including by an account that purports to belong to US President Donald Trump's daughter, Ivanka. 
But the Facebook ID of the account is @IvankaFC2024, while that of Ivanka Trump's verified Facebook account is @IvankaTrump.
AFP analysed the footage and found that the speed and motion of the video had been slowed.
The footage shows a blue background with words on it, similar to the one at the Center for American Progress Ideas Conference, which was held in Washington DC on May 22, 2019.
Pelosi was one of the speakers at the conference.
Her full speech, which was around 33:10 long, was published online by American cable and satellite TV network C-SPAN.
The caption of the C-SPAN video states: "At the Center for American Progress Ideas Conference, House Speaker Nancy Pelosi (D-CA) repeated her comments that she believes President Trump is 'obstructing justice' and is engaged in a 'cover up' by refusing to cooperate with investigations by House Democrats.
"She added that the president's efforts to thwart them may be an 'impeachable offense.' She also discussed the Democratic agenda, women's rights and health care at the event in Washington, DC."
The same part of Pelosi's speech as included in the doctored video can be viewed at around 06:09 of this C-SPAN video.
Here is a transcript of that part of her speech:
"And then he had a press conference in the Rose Garden with all these... sort of visuals that obviously were planned long before I said most recently that he was engaged in a cover-up. So it's really sad. Here's the thing, and I told this to the room and he came in and made that statement and he walked out. You got the Secretary of the Treasury, this, that, and the other, distinguished group of members from the House and Senate, Democrats. Said 200 years ago Thomas Jefferson tasks his secretary of the treasury... to develop an infrastructure initiative for America to build into the Louisiana purchase, the Lewis and Clark expedition... the Cumberland Road, all those kind of things for America. 100 years later, Teddy Roosevelt instituted his infrastructure initiative, the National Park Service. The Green Initiative - the greenest infrastructure initiative in America. So I said... we want to give this president the opportunity to do something historic for our country. While there are those in our family who think - why would you work with him? You know, and basically he is saying why would I work with you if you are investigating, but the fact is something happened there. So I pray for him and I pray for the United States of America. It's really… he walked away. Whether he ever intended to honour what he said before remains to be seen, but Democrats believe in building infrastructure of our country - mass transit, roads, bridges, broadband into rural America, into underserved areas in our cities, wastewater, clean water infrastructure, the satellite so we can have precision farming. There are so many needs and we thought we had some level of agreement, but you never know with this president of the United States, so that's what happened this morning. It was very, very, very strange."
AFP took a YouTube version of Pelosi's original speech uploaded by American news website NowThisNews (starting at 01:50) and slowed it down by 75 percent.
AFP then took the same clip of the original speech and imported it to Anilyzer, an online tool that allows frame-by-frame analysis, and cut the speed by equal measure. 
Both of the slowed versions of her speech resemble the doctored video.
According to this Washington Post report dated May 23, 2019, Pelosi's pitch has also been altered.
"To possibly correct for how that speed change would deepen her tone, the video also appears to have been altered to modify her pitch, to more closely resemble the sound of her natural speech," the Washington Post report says.
When playing a YouTube video in slower motion, both the visuals and sound would be slowed as a result.
AFP could not detect any obvious alteration specifically to the motion of the video, for example to Pelosi's blinking and hand gestures. 
The doctored video is uploaded in lower definition than the original, but there is also no apparent motion blur in the slowed-down video.
On May 23, 2019, a day after the doctored clip was posted, US President Donald Trump tweeted a different video compilation which also purports to show Pelosi's slurred speech with caption: "PELOSI STAMMERS THROUGH NEWS CONFERENCE".
"PELOSI STAMMERS THROUGH NEWS CONFERENCE" pic.twitter.com/1OyCyqRTuk

— Donald J. Trump (@realDonaldTrump) 2019年5月24日Pelosi and Trump have publicly traded barbs in recent days. Here is an AFP report on their dispute.
Pelosi and Trump have publicly traded barbs in recent days. Here is an AFP report on their dispute.
Multiple previous misleading reports have portrayed Pelosi as sluggish or drunk. For example, the speaker was falsely accused of being drunk at a cancer fundraiser in January 2019, according Poynter-owned fact-checking PolitiFact.