No, Nike hasn't designed a new football shirt for Cameroon
Pictures posted to Facebook and Twitter accounts in Cameroon suggest Nike has designed a new football jersey for the national team. However, the design was created by a football enthusiast who doctored genuine photos of the Indomitable Lions' jersey.
The photos show a bright green jersey emblazoned with the Nike swoosh, with captions claiming the brand has designed a new kit for Cameroon's national football team, Indomitable Lions.
The striking design pleased and fooled a number of sports sites and journalists too.
"The new #Cameroon kit by Nike," announced Twitter account @MySoccerAfrica (archived link), which has more than 54,000 followers.
A screenshot of the misleading photo on Twitter, taken on April 19, 2019
"Divorce after 22 long years. Cameroon Indomitable Lions new Nike Kits after ending their 22 year relationship with Puma," wrote football journalist Collins Okinyo in a tweet (archived link).
The photos have also been shared on Facebook here, here and here.
Some websites falsely announced that the team, known as the Indomitable Lions, had chosen the new Nike-designed kit ahead of the Africa Cup of Nations in summer 2019.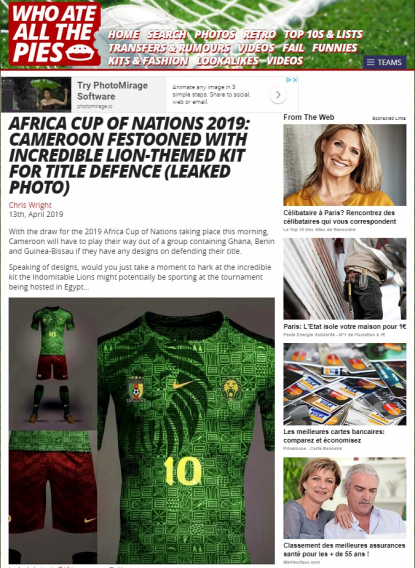 A screenshot of the false pictures on a football news site, taken on April 19, 2019
However, the Cameroon Football Federation denied the claims. Their partnership with Puma ended in December 2018. They had no equipment supplier at the time the photos were published, a spokesperson told AFP.
French brand Le Coq Sportif announced on April 18, 2019 on Twitter (in French) that it would be "supporting the Indomitable Lions to write a new page in our shared history".
AFP contacted Man Mbai Likol, whose name appears on some of the pictures of the false jersey circulating in French. Man Mbai Likol, whose real name is Maï Ngidjol Salomon Olivier, confirmed he created the photos.
"The first design is inspired by the Ndop patterns from west Cameroon," he told AFP via Facebook. "The second design is based on traditional Toghu print from northwest Cameroon, and the third one is another variant of Toghu print."
Mai Ngidjol Salomon Olivier posted his work on Twitter, Facebook and Instagram on April 10, 2019, stating that it was his suggestion for the jersey.
The Africa Cup of Nations kicks off on June 21, 2019 in Egypt.