No, this it not a video of a Saudi assaulting a London hospital receptionist
A video shared over 40,000 times on Facebook in less than a month shows a man spitting on a woman's face and hitting her. The caption states that the scene shows a Saudi man assaulting a London hospital clerk. This is false: these images actually depict a July 2017 incident in a veterinary clinic in Kuwait.
"Man from Saudi spits in the face of the poor receptionist at a Hospital in London then attacks other staff," according to a July 1 Facebook post from the English Defense League, a far-right British movement. The post resembles others posted in the past month by English-speaking and Arabic-speaking accounts on different social networks.
Screenshot of the English Defence League Facebook post
The video that follows shows a man donning a white robe and a shemagh - the traditional white and red checkered scarf worn in some North African and Middle Eastern countries -, spitting at the face of a blond woman wearing a green blouse. Several men then try to overcome the assaulter before he strikes several blows to the green blouse woman.
Although this incident is real indeed, it did not take place in London.
These surveillance camera images actually depict an incident that occurred at a Kuwaiti veterinary clinic in July 2017.
An AFP journalist visited the clinic - the "Royal Animal Hospital"- located in Koweit City, and received a confirmation from one of the receptionist. "Yes [...] but the incident took place a long time ago. I think [...] July 2017 I believe," the employed said.
The waiting room of the Koweiti veterinary clinic matches the one on the surveillance camera images, AFP observed.
"When a doctor examined the cat brought by the assailant, he found that her heatlh status was normal, which pushed the assailant to ask for his money back. And when his conversation became tense, an Australian doctor had to interfere so he (the assailant) spat in her face and assaulted her," an animals rights activist based in Kuwait close to the Australian vet and victim told AFP anonymously.
Several Kuwaiti media, including Al-Qabas newspaper, had reported on the incident at the time.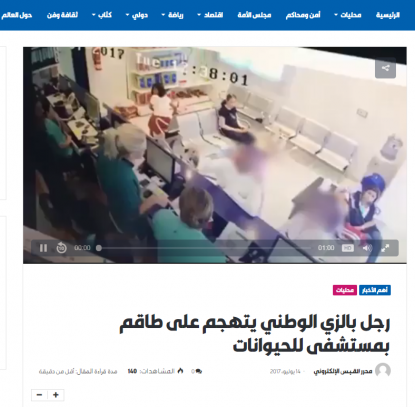 Capture d'écran du site du journal koweïtien Al-Qabas (DR)
This hoax is reminiscent of another, a similar video shared out of its context. Hundred of thousands of people shared a video of a man hitting two women in a hospital hallway in 2017.
The video caption claims that the protagonist is a refugee assaulting two nurses in a French hospital. However, as AFP Factcheck explained in this piece, the video showing a man in a state of inebriation was shot by a surveillance camera in Russia in February 2017.