No, the ousted Philippine chief justice has not been disbarred
Online reports claim the ousted Philippine chief justice Maria Lourdes Sereno had been disbarred. However, only the Supreme Court can cancel her law license and it has not done so, the court spokesman told AFP.
Sereno, a high-profile critic of President Rodrigo Duterte, was voted off the Supreme Court in May in an 8-6 decision by her colleagues.
The case against her alleged that she had failed to properly disclose her assets in years past.
Sereno has denied any wrongdoing.
Months after she lost her role at the Supreme Court later, reports like this and this appeared online saying the Department of Justice (DOJ) had also disbarred her.
They had a headline in Filipino that translates to: "Sereno now bids goodbye to being a lawyer, her being one was nullified by the DOJ".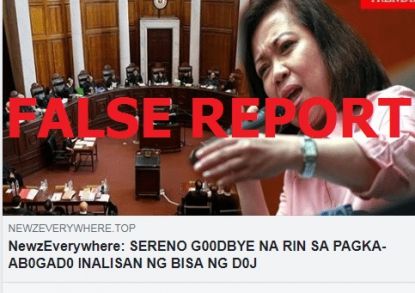 The articles were widely shared on Facebook.
The DOJ, however, has not and cannot disbar Sereno as it does not have the power to do that.
"The power of admission and removal of lawyers rests with the Supreme Court," justice department Undersecretary Erickson Balmes told AFP.  
Supreme Court spokesman Theodore Te also told AFP that Sereno was reprimanded but not disbarred.  
"She was reprimanded with stern warning against repetition," he said.