Multiple fake accounts on Twitter impersonate frontline activists of Nigeria's #EndSARS protest – here's how to know what's real
Multiple fake accounts have sprung up on Twitter to impersonate frontline activists of Nigeria's anti-police brutality movement known as #EndSARS as well as international celebrities supporting the cause. The fraudulent accounts surfaced as unrest gripped Africa's most populous nation following the shooting of protesters in the main city Lagos. AFP Fact Check explains how these accounts have evolved and ways to detect them.
Nigerian youths took to the streets across the country in early October to protest police brutality, calling for the axing of the controversial Special Anti-Robbery Squad (SARS) police unit. The rallies erupted after a video of a man being allegedly killed by police went viral last month. The unrest worsened after security forces in Lagos opened fire on a crowd on October 20, 2020. The shooting has drawn international condemnation and boosted the global spread of the #EndSARS hashtag on Twitter.
AFP has extensively covered the protests, including the rising death toll across the nation.
The protests are largely being coordinated via Twitter, with Nigerians raising over $180,000 to pay for logistics. Twitter CEO Jack Dorsey also joined the call to end SARS, creating a special emoji for the movement.
Other international names to support the movement include US presidential candidate Joe Biden, star footballer Rio Ferdinand, and music celebrities like Nicki Minaj and Kanye West.
Fake accounts and parodies 
Since the protests gained traction on Twitter, many fake and parody accounts have impersonated key figures of the movement. Nigerian comedian Debo Adebayo, better known as Mr Macaroni, has been a major target of those creating these fake accounts. Macaroni led one of the first protests outside Lagos House, the state government's seat of power, and is a vocal online campaigner against police brutality.
Some of the fake accounts created in his name clearly state in their description that they are parodies. "Comedian & Skits Maker • #EndSARS Parody," reads the bio of this account which has shared multiple posts about the protests. While many of the account's posts relay accurate information, some content is  false. For example, this video claims to show live footage of soldiers shooting protesters at the Lekki tollgate in Lagos on October 20, 2020. However, AFP Fact Check found the video showed old footage.
A screenshot taken on October 21, 2020 showing the parody account
A screenshot taken on October 20, 2020 showing the actual Mr. Macaroni account.
Another fake account pretending to be Macaroni claimed President Muhammadu Buhari had travelled to the US in the middle of the #EndSARS protests. The tweet has been reshared more than 18,000 times.
Another account imitating the Nigerian comedian
Other key figures of the #EndSARS movement -- FK Abudu, Mochievous, Feminist Co -- also fell prey to fraudsters until Twitter verified their accounts and added its famous blue tick on October 14, 2020.
The real FK Abudu account before it was verified on October 15
#EndSARS protest organiser Feyikemi Abudu, who tweets under the handle @fkabudu, has also been the target of fraudsters. The account below is one such attempt to mirror her account, using a near-identical handle (@fkabadu) as well as copying her header image and profile picture. A now-deleted post gained 1,700 retweets in less than an hour as many users believed the account to be authentic.
Fake FK Abudu account
Changing account user names 
As celebrities joined the #EndSARS campaign, fake accounts appeared posing as stars who had not voiced any opinion on the issue. A false tweet attributed to US actress Gabrielle Union was retweeted more than 23,000 times within 24 hours after it was published on October 16, 2020.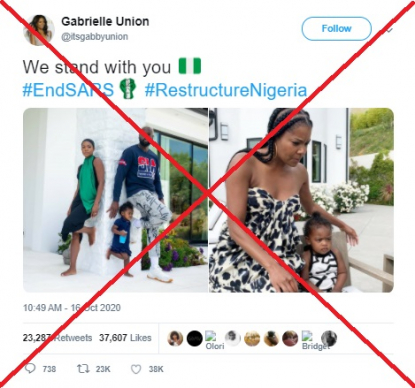 An account mimicking Gabrielle Union
The same account then changed its username to impersonate  American actor Denzel Washington.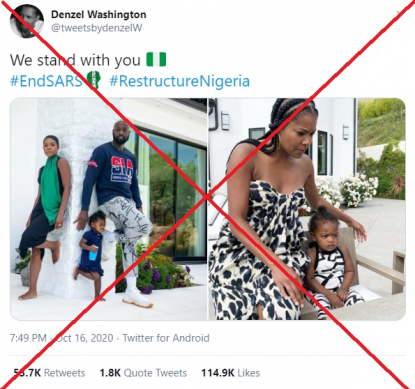 The tweet has now grossed over 50,000 retweets
Impersonators have also taken aim at popular Nigerian disk jockey DJ Switch who livestreamed the shooting of protesters at Lekki toll on Instagram. In less than 24 hours, multiple Twitter accounts were newly created or changed their usernames and profile pictures to imitate her account and gain followers.
DJ Switch's actual Twitter account
One of the newly created accounts in DJ Switch's name
Pls there is a fake Twitter account called Dj_swiitch. Pls that's not my account. Will share all relevant info as soon as possible. #EndBadGovernanceinNIGERIA #EndPoliceBrutalityinNigeraNOW

— Dj Switch (@dj_switchaholic) October 21, 2020
How to avoid falling for impersonators
Here are some expert tips on how to spot fake accounts:
Check the profile
Many unsuspecting Twitter users retweet a post after spotting it in their newsfeed and without checking the actual profile of the publisher. Make sure to visit the account's homepage and take a look at the bio and number of followers. This can help in detecting whether the account is authentic. 
Search for the account
When you see a tweet attributed to a famous #EndSARS supporter, run a quick search for the celebrity in the Twitter search bar to confirm if the tweet emanated from their account. A simple search for Gabrielle Union shows that, unlike the fake accounts, her real one has the blue tick. Her timeline shows that she has not commented on the Nigerian unrest.
Search other social media platforms
Not all public figures have verified accounts on Twitter. If you're unsure whether you're looking at the real deal, check if the person is active on other social media platforms like Instagram, Facebook, or YouTube. DJ Switch, for instance, was verified on Instagram but not on Twitter. A quick look at her Instagram account led us to a screenshot of a tweet from her Twitter account, which helped us distinguish her Twitter account from the parodies.
Timestamps matter
Another pointer for detecting fake accounts is to check when they were created and look at the timestamp of their earliest tweets. You should be suspicious if an account purporting to be from a public figure supporting #EndSARS was only created in October 2020.
EDIT 22/10/20: Adds example of old footage in paragraph 7

EDIT 23/10/2020: Tag added for EndSARS protests