The footage predates Nigeria's protests against police brutality
Footage of a military gunner firing into the night has circulated on social media with claims that it shows how troops used live ammunition on civilians during ongoing protests against police brutality in Nigeria's megacity Lagos. But the claim is false: the clip was circulating online before the demonstrations erupted in October 2020.
"UPDATE: A Nigerian Army officer posted a LIVE FOOTAGE of how the shootings were being coordinated!," reads this tweet from a parody account falsely claiming to belong to popular Nigerian comedian Mr. Macaroni, a key figure in the protest movement. AFP Fact Check has reported on multiple fake accounts of this kind appearing since the start of the protests. 
Screenshot taken on October 21, 2020, showing the misleading Twitter post
The video has been viewed more than 24,000 times since it was tweeted on October 21, 2020.
The same footage has also circulated on Facebook with a caption linking it to "Lekki tollgate masacre (sic)" -- the site of large demonstrations in Lagos where gunfire erupted on the night of October 20, 2020, resulting in dozens of injuries and reported deaths. AFP has been covering the story.
We've archived other similar claims here and here.
Old footage of Nigerian soldier 
Nigerian soldiers have indeed been accused by Amnesty International of shooting dead people at the ongoing protests.
However, the video circulating on social media predates the current events.
Using the InVID WeVerify tool, AFP Fact Check ran a reverse image search on keyframes of the video and found it was published on Twitter on May 21, 2020.
For every soldier at war front whose courage failed him, we have thousands of others using the dead hours of the night to defend the country. This is a war, it's not for babies,it's for real men who love their country. pic.twitter.com/ny5O0HC6Lx

— Olusoga Owoeye (@olusogaowoeye) May 21, 2020
There is nothing that locates or dates the video in the tweet but the soldier's uniform is the same kind worn by Nigeria's armed forces.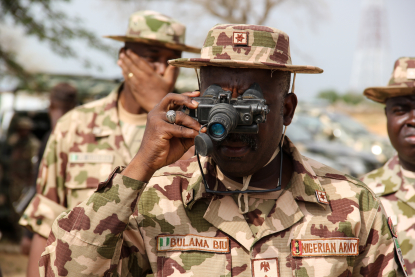 The soldier's uniform in the video is the same kind worn by Nigeria's armed forces, seen here in a 2019 picture (Photo by AUDU MARTE / AFP)
The widespread protests against police brutality erupted in early October and eventually prompted the disbandment of the Special Anti-Robbery Squad -- a unit accused of the worst atrocities in Nigeria over the years.
But the unrest has continued to spiral after a video emerged on October 20, 2020, of uniformed men opening fire on peaceful protesters at the Lekki tollgate in Lagos.
The army has rejected the allegations as "fake news".
Fake News!!! pic.twitter.com/4c1LHhRD7s

— Nigerian Army (@HQNigerianArmy) October 20, 2020
Lagos Governor Babajide Sanwo-Olu said on Wednesday at least one person had died and another 25 were wounded in the Lekki tollgate shooting.
EDIT 23/10/2020: Tag added for EndSARS protests