Misleading claim circulates that World Bank and IMF were established by former dictator Ferdinand Marcos and Filipino nationalist
Multiple posts shared repeatedly on Facebook claim the World Bank and the International Monetary Fund (IMF) were established by former dictator Ferdinand Marcos and Filipino nationalist Jose Rizal. The claim is misleading; the World Bank and the IMF were established following the 1944 Bretton Woods conference in the US, five decades after Rizal's death and two decades before Marcos was elected president; the posts cite comments by a former World Bank staff member who has since been discredited.
The claim was shared in this Facebook post on October 22, 2020. The post has been shared almost 100 times.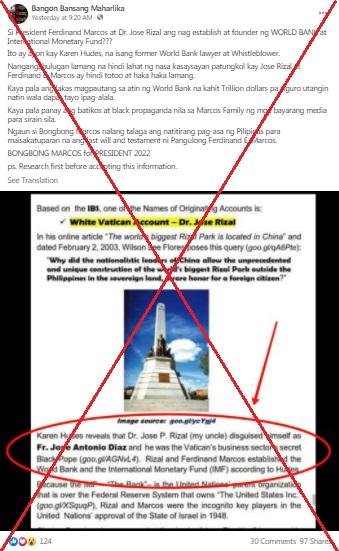 A screenshot of the misleading post, taken on October 23, 2020
The Tagalog-language post translates to English in part as: "President Ferdinand Marcos and Dr. Jose Rizal established and founded the WORLD BANK and International Monetary Fund???
"This is according to Karen Hudes, a former World Bank lawyer and Whistleblower.
"This means that not everything taught in history about Jose Rizal and Ferdinand E. Marcos are true and are mere conjectures.
"That's why the World Bank is generous in lending, that we need not worry if we borrow even a Trillion dollars."
The post also includes a photo overlaid with text that restates the claim.
Ferdinand Marcos was president of the Philippines from 1965 to 1986.
Filipino nationalist Jose Rizal was executed in 1896. His death fueled nationalist sentiment against Spanish colonial rule. 
An identical claim was also shared here and here on Facebook.
This claim, however, is misleading.
Inconsistent timelines
The establishment of the World Bank and the IMF is inconsistent with key events in the lives of Rizal and Marcos.
On the World Bank's website here and the IMF's website here, it states both entities were conceived and established in 1944, following the Bretton Woods agreement on a global economic framework post-World War II.  
Rizal's execution in 1896 predates Bretton Woods by almost five decades. 
Marcos was not elected president until 1965, more than two decades after Bretton Woods. 
Discredited source
Claims made by Karen Hudes about the World Bank, whom the misleading posts cite as their source, are not credible, according to the bank.
This World Bank statement, published July 8, 2014 states: "Karen Hudes has not been employed by the World Bank since 2007 and is in no capacity authorized to represent any arm of the World Bank Group. Any claims otherwise by Ms. Hudes or her proxies are false and should not be viewed as credible."
Hudes, identifying herself a "whistleblower," has alleged the World Bank wrongfully terminated her employment in supposed retaliation for reporting corruption. A US district court dismissed her suit in 2011 and she lost her appeal in 2012.