Misleading claim circulates online that Australian state leader would travel to AFL final, skipping quarantine
Multiple Facebook posts shared hundreds of times in October 2020 claim that Victorian Premier Daniel Andrews is travelling to Queensland for the Australian Football League grand final, skipping quarantine. The claim is misleading: Andrews said he would watch the final "at home"; the health minister for Queensland said Andrews would not have been exempted from quarantine; Queensland health authorities said no such quarantine exemption request had been made.
The claim was shared here in a Facebook post on October 18, 2020.
The post features a screenshot of a tweet, which reads: "So @DanielAndrewsMP will be flying to Brisbane on a private plane to watch the #AFLGrandFinal with no quarantine, while the rest of Victoria is in Lockdown. Where he'll meet up with his wife and kids and bring them home. #DictatorDan #weareallinthistogether".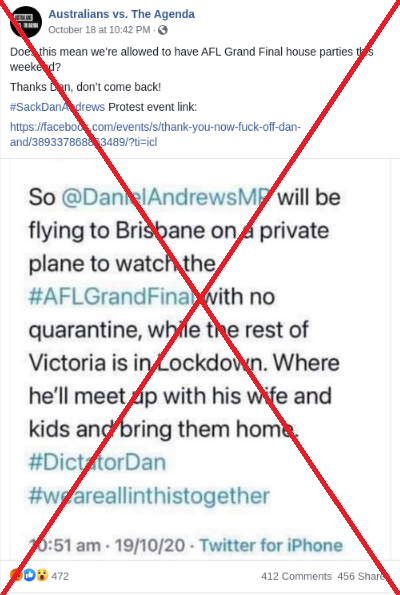 A screenshot of the misleading Facebook post as of October 23, 2020.
From July 3, 2020, the entire state of Victoria was declared a Covid-19 hotspot by the Queensland government. 
The declaration meant that only Queensland residents and people with essential reasons were allowed to enter Queensland if they had been in a Covid-19 hotspot in the last 14 days, but would be subject to mandatory quarantine. All other people would be turned away from the Queensland border.
Traditionally held in Melbourne, the Australian Football League (AFL) announced that the 2020 Grand Final would be played in Brisbane, Queensland.
A similar claim about Andrews evading quarantine appear in these Facebook posts here, here, here, here, here, and here. The claim appears to have originated from this tweet.
The claim is misleading.
In a press conference on October 20, 2020, Victorian Premier Daniel Andrews said he would not attend the AFL Grand Final this year. 
"I'll be at home, with my wife and with my three children," he said in response to a question on whether he would attend the event.
Steven Miles, Queensland's Deputy Premier and Minister for Health, also refuted the claim in a tweet on October 22, 2020.
"I can tell you right now that Dan Andrews will not be at the AFL Grand Final in Brisbane and he definitely won't be exempt from 14 days quarantine," Miles wrote.
Bit of fake news going around this morning.

I can tell you right now that Dan Andrews will not be at the AFL Grand Final in Brisbane and he definitely won't be exempt from 14 days quarantine.#qldpol #AFL

— Steven Miles (@StevenJMiles) October 22, 2020
In response to the Facebook post, a Queensland Health department spokesperson told AFP in an email on October 23, 2020 that it was "not aware of any exemption request."