Misleading claim circulates on Facebook that the former Philippine human rights chief defended an Islamic State-linked militant group
A photo showing former Philippine human rights chief Etta Rosales speaking to reporters has been shared several times on Facebook alongside a purported quote by her, in which she says the Islamic State-linked Maute group are "defenceless" and "pitiful" and should be treated with "care, compassion and dignity". This claim is misleading; the photo was taken by a Philippine journalist who published it online with an unrelated quote; there are no credible reports of Rosales issuing such a statement.
The photo was published here on Facebook on November 5, 2020.
The Tagalog and English-language text overlay under the photo reads: "It is very unfair to the MAUTE GROUP. Duterte should not use airplanes, the MAUTE GROUP is defenceless. They're pitiful, they should be treated with care, compassion and Dignity. - Etta Rosales C.H.R."
CHR is the acronym for the Philippine Commission on Human Rights, which Rosales chaired from 2010 to 2015. 
The Maute is an armed militant group that besieged the southern Philippine city of Marawi between May and October 2017, resulting in almost 1,200 deaths. Philippine authorities said the attacks were launched to establish a southeast Asian base for the Islamic State, AFP reported here.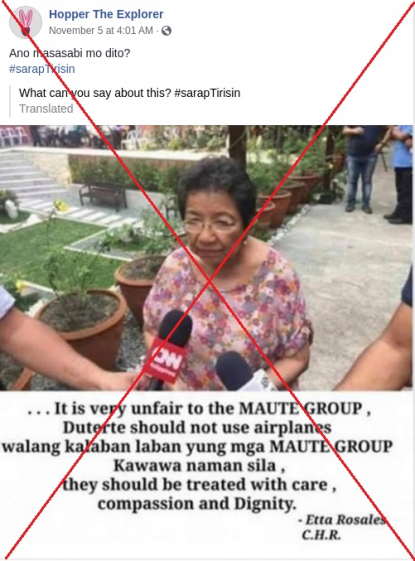 A screenshot of the misleading post, taken on November 10, 2020
A similar claim was also shared here, here and here on Facebook, alongside the same photo of Rosales.
However, the claim is misleading.
A combined reverse image and keyword search on Google found the original photo published here on Twitter by Mike Navallo, a reporter for Philippine broadcaster ABS-CBN, on May 4, 2017.
The tweet contains a quote attributed to Rosales, that makes no reference to the Maute group. It reads: "Former CHR Chair Etta Rosales: (Philippine National Police) Chief Ronald dela Rosa should be accountable for criminal acts committed by his men during his watch".
Dela Rosa is the former police chief -- currently a senator -- who initially led President Rodrigo Duterte's deadly war on drugs, as AFP reported here. 
Below is a screenshot comparison of the photo in the misleading posts (L) and the photo in Navallo's tweet (R):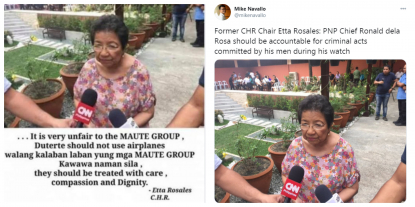 Screenshot comparison
Navallo's tweet was also published almost three weeks before the Maute group attacked Marawi on May 23, 2017, as per this government report.
In response to the misleading posts, Navallo told AFP via Viber message on November 10, 2020 that Rosales did not make such a statement about the Maute group during the pictured interview. 
He also shared this statement he posted on Facebook on May 29, 2017, which reads: "I took that photo during CHR's 30th anniversary on May 4, 2017, long before the Maute siege in Marawi. It is thus, impossible, for Rosales to have uttered such statements. What is she, a prophet?" 
Multiple keyword searches on Google found no credible reports of Rosales issuing statements voicing support for the Maute group. 
Instead, AFP found several local media reports such as this by ABS-CBN and this by Inquirer that say Rosales denied similar claims in 2017. 
The May 2017 ABS-CBN report reads, in part: "Former Commission on Human Rights chairperson Loreta 'Etta' Rosales on Monday denied statements being attributed to her, which allegedly expressed her support to the Maute group. 
"Rosales cited reports which had her purportedly saying that the Maute group should be treated with compassion and that she was against the military's bomb attacks on rebel positions. 
"'I would like to correct that on two grounds: first, I am no longer chair of the CHR; secondly, I condemn the attack of the Maute group as a terror group in Marawi City--it went to the hospital and went to the schools,'"she told reporters."