Misinformation recirculates online in Thailand about 'cure' for kidney stones
Multiple posts shared hundreds of times on Facebook and YouTube claim that drinking coconut water diluted with potassium aluminium sulphate, a chemical compound commonly used in water purification, can "dissolve kidney stones". The claim is misleading; health experts told AFP there is insufficient scientific evidence that the concoction can cure kidney stones; Thailand's Department of Medical Science warned that excessive consumption of aluminium can cause Alzheimer's disease.
The claim was published here on Facebook on April 2, 2020. It has been shared almost 300 times.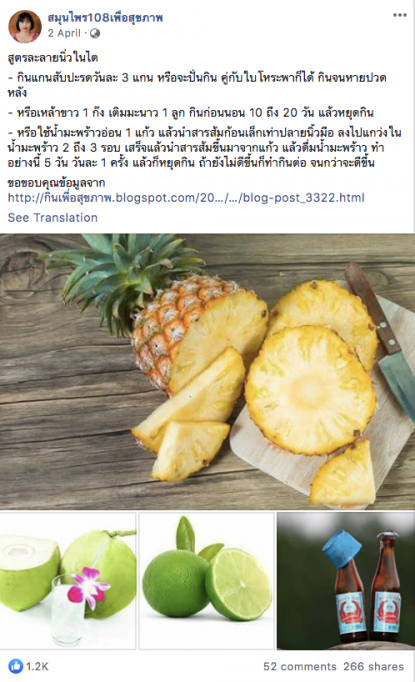 The post's Thai-language caption translates to English as: "# Formulated to dissolve kidney stones…use 1 glass of coconut water diluted by a thumb-size potassium alum, 2-3 times, remove the potassium alum and drink it, do it for five days, once a day and stop. If your symptoms are not better, do it until it gets better."
"Potassium alum" refers to potassium aluminium sulfate, a chemical compound composed of potassium, aluminium and sulphate ions. It is commonly used in water purification and the manufacturing of coloured dyes.
Similar claims were shared here on Twitter in 2011 and here on YouTube in 2019. It was also published more recently on Facebook here in 2020.
The claim, however, is misleading.
During a phone conversation with AFP on July 16, 2020, Dr. Pakkapol Bamrungphuet, a urologist at Thailand's Taksin Hospital said: "There are studies that say drinking coconut water can prevent you from stones. However, you can't expect it to be very effective because the studies about this are still unclear, and it can't be used to cure all types of kidney stones.
"The medical treatment for kidney stones varies, depending on the type and size, such as taking medication, shock wave lithotripsy or surgery."
Dr. Bamrungphuet recommended drinking two litres of clean water daily, regular exercise and eating healthily to avoid stones forming in the body.
Thailand's Department of Medical Science published this statement on November 12, 2012, advising against the excessive consumption of aluminium due to its side effects, which include increased risk of Alzheimer's disease.
The release reads in part: "In everyday life, people mostly receive Aluminum into your body from food and drink consumption, especially those who drink water that has been diluted with potassium alum without controls of how much Aluminum is safe for your body. Drinking water that has high contamination of Aluminum can cause nauseating, diarrhoea and rash. Most importantly, Alziehmer's as Aluminum can damage nerve tissues."