This military vehicle was captured by jihadists in Burkina Faso, not Nigeria
Social media posts with footage of onlookers gathered around an armoured vehicle claim it shows Islamist group Boko Haram's newest military purchase for its ongoing insurgency in Nigeria. However, the claim is false; the video clip actually shows a combat vehicle seized by jihadists during a twin attack on military facilities in Burkina Faso's northwestern region of Soum.
The clip has been published in numerous Facebook posts, including on this page called Biafrans Home And Abroad. "Boko-Haram Members Display Their New 'Armoured Tank' Bought To Fight Against The Nigerian army," the caption reads.  
Boko Haram, which loosely translates as "Western education is banned", wants to create a hardline Islamic state in Nigeria. According to the United Nations, the insurgency has killed 36,000 people and displaced around seven million from their homes since 2011. 
The post's footage has been viewed more than 120,000 times since September 20, 2020, according to data provided by social media monitoring tool CrowdTangle.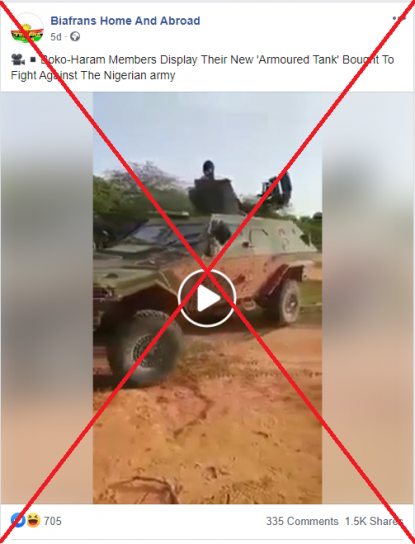 Screenshot taken on October 6, 2020, showing the misleading Facebook post
Our CrowdTangle search dated the earliest claim on Facebook to March 1, 2020. We archived a similar claim on Twitter here.
But no evidence could be found to support the claim that the military vehicle was procured by Boko Haram insurgents to fight Nigerian troops.
Using the InVID WeVerify tool, AFP Fact Check ran several reverse image searches on keyframes of the video. We then found the same footage with better quality published on Twitter on November 10, 2019.
The tweet's French caption translates to English as: "Armoured vehicles of the Malian army in the hands of the Fula Empire of Macina." However, the author was corrected by MENASTREAM, an independent risk and research consultancy focusing on North Africa and the Sahel region.
#BurkinaFaso: Blindé pris à Baraboulé dans le Soum pour être précis https://t.co/QHXEclX5n6

— MENASTREAM (@MENASTREAM) November 10, 2019
AFP Fact Check matched a number -- "3 1286" -- seen on the side of the vehicle in the video clip to an image shared previously by MENASTREAM.
Screenshots taken on October 7, 2020, show similarities between the two images
In a tweet published on September 25, 2019, MENASTREAM said militants had hijacked the vehicle from security forces in Burkina Faso on September 12, 2019, in a twin attack in Baraboulé and Nassoumbou in Soum province.
"At least four Bastions and one Otokar Cobra taken by jihadi groups in Burkina," MENASTREAM told AFP Fact Check in March 2020.
The vehicle seen in the video is Cobra, according to its details found on the website of Turkish military vehicle manufacturer Otokar.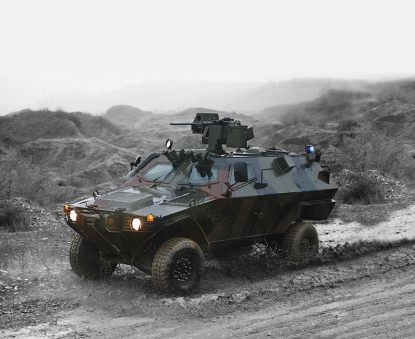 An image of Otokar Cobra (Photo: Otokar's Website)
The vehicle in the footage is part of a fleet of 24 tanks given to Burkina Faso by Qatar in May 2019. 
The Arab country also gave a similar fleet of tanks to Mali as reported here by AFP.