Malaysia gets additional hajj quota only after the pandemic situation 'fully recovers'
A screenshot of a news report that Saudi Arabia has given Malaysia additional hajj quota has been shared multiple times by Indonesian social media users on Facebook, Instagram and Twitter alongside a claim that Malaysia can perform the hajj pilgrimage during the pandemic while Indonesia has cancelled the hajj. The claim is misleading: the additional quota for Malaysia will only be implemented when the Covid-19 pandemic is under control, the Malaysian prime minister said. This year, Saudi Arabia only allows a scaled down hajj for fully vaccinated residents of the kingdom. 
A screenshot of a news report from Antara, Indonesia's state news agency, was shared on Facebook here on June 4, 2021. 
The Indonesian-language headline of the Antara report, dated March 11, 2021, reads: "Saudi Arabia adds 10,000 hajj quota for Malaysia."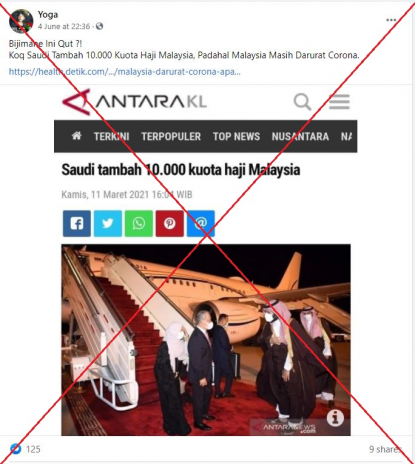 Screenshot of misleading post, taken on June 22, 2021
The post's Indonesian-language caption translates to English as: "How is this, Qut?
"Why Saudi Adds 10,000 Hajj Quota for Malaysia, Even Though Malaysia Is Still Under Coronavirus State of Emergency."
"Qut" refers to Yaqut Cholil Qoumas, Indonesia's religious affairs minister.
Hajj is an annual pilgrimage to the holy city of Mecca. It is mandatory for Muslim adults who are of sound mind and physically and financially capable to undertake the journey at least once in their lifetime. 
The dates of the hajj in 2021 are between July 17 and 22.  
Indonesia announced on June 3, 2021, that the country has cancelled the hajj pilgrimage for a second year in a row due to the Covid-19 pandemic. 
Both Indonesia and Malaysia are battling a new surge of Covid-19 cases recently. By June 24, 2021, Indonesia has recorded a total of more than 2 million while Malaysia recorded more than 716,000. 
The screenshot of a similar Antara report has been shared with a similar claim on Facebook here, here, here and here; on Twitter here and here; as well as on Instagram here. 
The claim is misleading.
Keyword searches found this March 10, 2021, news report on Antara that was featured in the screenshot. 
The report was also published by Antara here on March 11, 2021.
The report quoted Malaysia Prime Minister Muhyiddin Yassin who said that the additional quota would be implemented after the Covid-19 pandemic "situation is fully recovered".
Malaysia's state news agency Bernama reported the press conference of Muhyiddin explaining the additional hajj quota during his visit to Riyadh on March 10, 2021, here. 
Translated from Malaysian to English, Muhyiddin said: "The agreement is that when the situation fully recovers, then Malaysia's application for the additional quota is approved, an addition of almost 10,000." 
Saudi Arabia only allows 60,000 vaccinated residents to perform the annual hajj in 2021, AFP reported here.
The kingdom's Hajj Ministry posted a written statement on Twitter on June 13, 2021, saying: "The total numbers of the pilgrims for the year 1442 AH (60,000 pilgrims), for residents of all nationalities and citizens inside the Kingdom of Saudi Arabia."
#إنفوجرافيك | 📊
بيان #وزارة_الحج_والعمرة بشأن آليات وضوابط #حج_1442هـ
باللغة ( الإنجليزية ) pic.twitter.com/6w2pIypWAh

— وزارة الحج والعمرة (@HajMinistry) June 12, 2021
Up to 10,000 people already residing in the kingdom participated in the hajj in 2020, AFP reported here.