Infrared thermometers are safe and do not cause cancer, health officials say
An image has been shared in multiple posts on Facebook in Malaysia alongside a claim that people in Saudi Arabia are aiming infrared thermometers at people's hands rather than their foreheads because "laser light" can damage the brain. The claim circulated as governments around the world recommended temperature checks as part of efforts to fight the spread of the novel coronavirus. The claim is false; health authorities have said infrared thermometers can safely be pointed at a person's head; the image in the misleading posts has been taken from a photo gallery which also shows officials in Saudi Arabia pointing infrared thermometers at people's heads.
The image was published here on Facebook on July 24, 2020.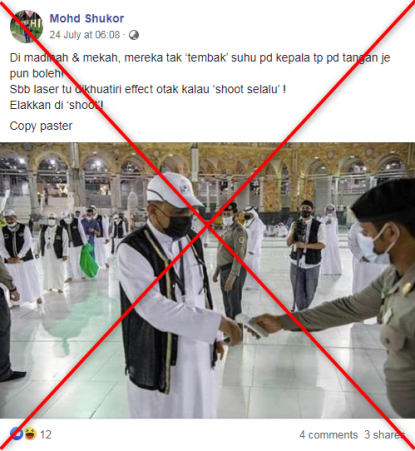 Screenshot of the misleading Facebook post taken on August 5, 2020
The Malaysian-language caption translates to English as: "In Medina and Mecca, they don't 'shoot' temperature on the head but on the hand is also allowed!
"Because it is feared the brain can be affected if it is 'always shot on' by laser. Avoid being shot!" 
The image was also repeated alongside the same claim here, here and here on Facebook.
The claim, however, is false. Health authorities say infrared thermometers are safe.
The Malaysian Ministry of Health (KKM) retweeted a thread by a local doctor, Muhamad Shazwan Sazali, commenting on a viral video advocating a similar misleading claim.
Infrared Thermometer adalah selamat dan tidak menyebabkan kanser. https://t.co/eseaZKo4Sn

— KKMPutrajaya (@KKMPutrajaya) July 27, 2020
The ministry's Malaysian-language tweet translates to English as: "Infrared Thermometers are safe and do not cause cancer."
Dr Shazwan's tweet reads in part: "Infrared thermometers cause cancer? I don't know who made this video, but this is clearly not accurate."
In this press release on August 3, 2020, Dr Noor Hisham Abdullah, Malaysia's director general of health, said: "Non-contact infrared thermometers are not a shooting tool and do not emit radiation. It is designed to detect and absorb the infrared light signals from the surface of the skin and convert it to electricity signals. The electronic circuit in this thermometer processes these electrical signals to determine the human body's temperature being measured and show it on the display screen. Since the infrared thermometer does not emit dangerous radiation, it is safe to use."
In this August 4, 2020 post on Facebook, Dr Ahmad Firdaus Mohd Haris, a medical doctor and co-founder of Medical Mythbusters Malaysia, wrote that the non-contact infrared thermometers "only have sensors that detect temperature on the surface of the body" and that temperatures are taken from the forehead because it is "more accurate" compared to other parts of the body. 
In a Facebook post dated July 25, 2020, here, the National Metrology Institute of Malaysia also explained that infrared thermometers are safe.
They wrote: "Every object with a temperature of over 0 Kelvin (-273 degrees Celsius) will produce infrared spectrum or ray. Infrared thermometers will detect this infrared ray or spectrum on wavelengths between 8-14 micrometers and convert it to a temperature reading … No laser rays are involved for the human body's temperature range."
The US Food and Drug Administration states here that thermometer guns "may reduce the risk of spreading disease between people."
A reverse image search on Google found the image featured in the misleading posts previously appeared in this photo gallery published by Iran's Mizan Online News Agency on July 22, 2020. 
Below is a screenshot of the photo on Mizan's website – AFP has circled the relevant photo in red: 
Screenshot of Mizan Online News Agency's website
The first sentence of the gallery's Persian-language sub-headline translates to English as: "Every year, before the start of the hajj, the curtain of the Kaaba is lifted and white linen cloths are placed around the Kaaba."
Kaaba, considered by the most sacred spot for Muslims, is a shrine located near the centre of the Great Mosque in the Saudi city of Mecca. 
Another photo in the photo gallery shows a guard aiming the infrared thermometer at a man's forehead, as shown below: 
Screenshot of photo from Mizan's website
AFP Fact Check has also debunked a similar false claim about thermometer guns causing brain damage here, and killing neurons here in Spanish.