This image shows a Zimbabwean man and his shoe collection, not Uganda's president
A photo of a man in a room posing with numerous pairs of shoes on the floor has been shared on Facebook with claims that it shows Ugandan President Yoweri Museveni trying to appeal to young voters with a display of more than 100 pairs of sneakers. The claim is false; the image is old and shows Zimbabwean businessman Wicknell Chivayo showing off his personal shoe collection.
The photo was posted on Facebook on August 10, 2020, with the caption: "President Museveni buys more than 100 pairs of sporty shoes that he'll be wearing as the Ugandan elections of 2021 approach, in an attempt to look trendy and connect with youthful voters."
The image in the post shows a man arranging dozens of pairs of casual shoes in neat rows.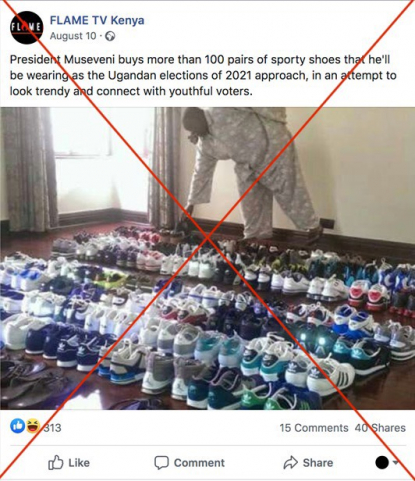 Screenshot of the misleading Facebook post taken on August 27, 2020
The photo was also posted with the same, and similar, claims on Facebook here, here, here and here, and on Twitter here. 
Again, the photo appeared in an article with a similar claim on Kenyan blog Bana, which publishes online news and entertainment. The headline reads: "Uganda president Yoweri Museveni buys more than 100 pairs of sporty shoes to lure youthful voters". 
Screenshot of the misleading article on Bana website taken on August 27, 2020
The article points to another report in Uganda's Daily Monitor where it claims that Museveni, in addition to buying sporty sneakers, had also "procured flares" in order "to connect with youths" and win over young voters in next year's elections. Despite efforts by AFP Fact Check as well as Pesa Check in this debunk, no evidence of such a report by the Daily Monitor was found.
The claim that it is Museveni in the picture is, indeed, false.
AFP Fact Check conducted a reverse image search that led to an article from October 31, 2017, published on a website called My Zimbabwe News. The headline reads: "Pompous Chivayo lambasted after posting photo of his shoes on social media". 
The story describes the backlash against Wicknell Chivayo, a businessman from Zimbabwe, who used social media to flaunt his wealth and extensive shoe collection.  
An additional search on Chivayo's Instagram account, where he goes by the name Sir Wicknell, led to a post from April 7, 2015, featuring the photo that was used in the false claim about Uganda's president.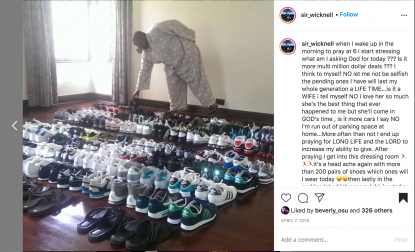 Screenshot of Chivayo's Instagram post from 2015
The caption reads: "... After praying I get into this dressing room, it's a headache again with more than 200 pairs of shoes which ones will I wear today, then lastly in the parking lot which car am I driving today...? ".