This image shows two Kenyan actresses – not Tanzania's new leader and her daughter
Facebook posts are being shared featuring an image of two women embracing -- one of them wearing a yellow dress and the other a black jumpsuit -- alongside a claim that the photo shows Tanzania's new President Samia Suluhu Hassan and her daughter. The claim is false; the women in the picture are two Kenyan actresses who play a mother and daughter in a Swahili telenovela.
"Tanzania President, Samia Suluhu Hassan (61) and her daughter, Wanu. Congratulations to the First Female Head of State in East Africa" reads one Facebook post.
The accompanying image shows two women hugging; one with a yellowish tunic and a hijab wrapped loosely around her head, the other in a tight-fitting black jumpsuit. 
The picture sparked a flurry of reactions online because Hassan is Muslim, and the attire of her purported daughter offends the religion's morals.
A screenshot of a false Facebook post, taken on March 26, 2021
Similar Facebook posts were shared (here, here and here) in English while the same post made the rounds in French-speaking countries (here, here and here).
On Twitter, the same claim was shared here and here.
AFP Fact Check debunked the claim in French here.
The picture does not depict either Hassan or her daughter, Mwanu Hafidh Ameir.
Kenyan actresses
A reverse image search revealed this Facebook post published by Kenyan entertainment website, Ghafla Kenya, which has more than a million subscribers. The same image appears in the post with a caption that reads: "Actress Trish Khalid and her mother (sic)."
A Google search of the name "Trisha Khalid" led to her Instagram page and a post with the same picture.
"And then Life happened. I love you Mama," wrote Khalid, tagging the Instagram account of the second woman, Saada Khamis Fateh.
Both Khalid and Fateh are actresses who play a daughter and mother in the Swahili telenovela Kovu (meaning scar in Swahili), which tells the story of a family returning to Kenya after decades in Tanzania.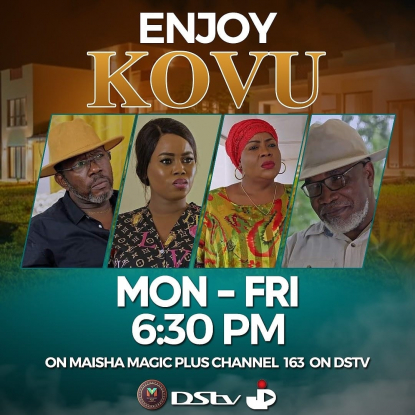 A poster of the Swahili telenovela, Kovu
The picture began circulating after Hassan assumed the presidency following the death of Tanzania's former leader John Pombe Magufuli which was officially announced on March 17, 2021.