The image shows a Roma camp in the north of Paris
Facebook posts shared thousands of times claim to show an image of shanty homes on old railway tracks in Los Angeles, California. But the photo has been shared in a misleading way and actually shows a camp in Paris, France.
The photo was first published in this Facebook post on May 20, 2019, and has been shared more than 3,400 times. It has started to circulate again more widely in Africa, including Nigeria, Kenya, South Africa and Benin.
It shows people standing in front of dozens of shelters made with wooden boards and plastic sheets on an abandoned railway line. 
A screenshot taken on June 15, 2020, showing the misleading Facebook post.
"THIS IS LOS ANGELES, CALIFORNIA," the caption on the post reads. "And they made us to believe that we can only find shanties & slums like this in Africa. This is what they hide from us until you go there and see for urself (sic)." 
Similar claims are made in other Facebook posts, some archived here, here and here.
Many of the comments suggest some Facebook users believed the picture was shot in Los Angeles, while others were sceptical, even dismissive, about the claim.
A screenshot taken on June 15, 2020, showing some comments on one of the misleading Facebook posts
Paris, not LA
While the photo is real, it was not shot in Los Angeles. It was taken five years ago and shows a slum between the Porte de Clignancourt and the Porte de la Chapelle on the outskirts of Paris.
A reverse image search on Yandex web browser led us to a Daily Mail story published on December 18, 2015, alongside the photo with a watermark for Associated Press (AP) in the bottom left-hand corner. The story reports on the living conditions of Roma communities in the French capital.
AP's archives confirm the photo was taken on the same day by  Jacques Brinon.
A screenshot taken on June 15, 2020, showing the viral image on AP website
"Roma stand through their makeshift camp set up next to the Paris ring road, Friday, Dec.18, 2015," the caption reads. "Roma, mostly from Romania and Bulgaria, are among Europe's most marginalised minorities."
A similar photograph was taken of the same camp by Florian David for AFP a few months earlier, on September 30, 2015.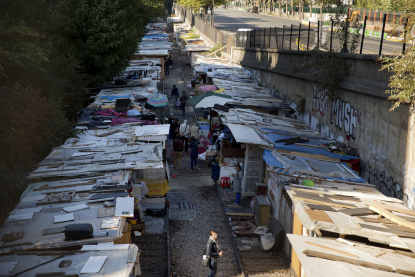 This photograph was taken in 2015, by an AFP photographer. It shows people walking between makeshift shelters of the Roma camp at the boulevard Ney in Paris. (Florian DAVID/ AFP)
Using Google Street View, AFP Fact Check confirmed that the AP picture was indeed shot in the north of Paris.
Some visible features in the picture such as rail lines and wall paintings match with those seen on Google Street View's historical images of the camp from 2015.