The image shows Priyanka Gandhi visiting a temple in north India during the Indian election campaigns in 2009
Multiple Facebook posts have shared a photo they claim shows Indian Congress party politician Priyanka Gandhi campaigning for upcoming elections in Bihar state. The claim is false: the image is actually from 2009 and shows Gandhi visiting a temple in Uttar Pradesh while campaigning for her brother Rahul Gandhi ahead of India's national elections.
The image was shared in this Facebook post on October 20, 2020.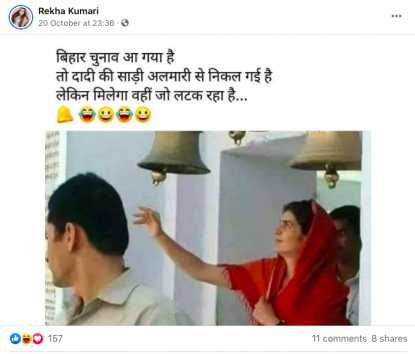 The Hindi-language text in the photo translates to English as: "Just before elections in Bihar, she has come out in the attire of her grandmother but she won't get anything in elections."
The woman in the photo is Priyanka Gandhi, the general secretary of the Indian National Congress party.
The mention of "her grandmother" is a reference to former Indian prime minister Indira Gandhi.
Elections are due to be held in the east Indian state of Bihar from October 28 to November 7, 2020.
The same photo was also published here, here and here on Facebook, and here on Twitter, alongside similar claims.
The claim, however, is false; this photo of Priyanka Gandhi dates back to 2009. It was taken during an election campaign in the north Indian state of Uttar Pradesh.
A combined reverse image and keyword search on Google found the original photo published here on April 12, 2009 on Flickr, a photo and video hosting website.
The caption reads: "Priyanka gandhi at durga temple during the election campaign for her brother rahul gandhi in amethi on sunday.Pressbrief.In."
Pressbrief.in is a website that hosts photo and video collections of Indira Gandhi, Sonia Gandhi, Rahul Gandhi and Priyanka Gandhi.
Rahul Gandhi, a Congress party leader, contested for a seat in Uttar Pradesh's Amethi constituency in the 2009 Indian elections.
Below is a screenshot comparison of the photo in the misleading Facebook post (L) and the Flickr photo (R):
More photos of Priyanka Gandhi's visit to the temple in 2009 can be found here on the Pressbrief.in Flickr page.
An AFP photographer also captured this photo of Gandhi at the same temple visit in 2009.
Below is a screenshot of the AFP photo: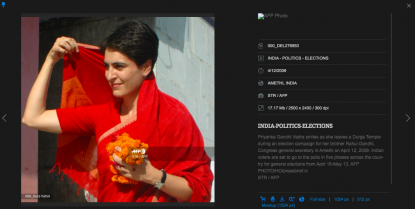 The caption states: "Priyanka Gandhi Vadra smiles as she leaves a Durga Temple during an election campaign for her brother Rahul Gandhi, Congress general secretary in Amethi on April 12, 2009. Indian voters are set to go to the polls in five phases across the country for general elections from April 16-May 13."