Famous Pakistani TikTok user Hyderabadi targeted by death hoax
A video claiming that a Pakistani social media star died in a car accident in August 2020 has been viewed millions of times in multiple posts on TikTok, Facebook and YouTube. The claim, however, is false: as of October 2020, TikTok star Ali Khan Hyderabadi is alive and posted videos on the platform after the false claim was made; the person who posted the original misleading claim later retracted the allegation.
The claim was published by another user on TikTok here on August 15, 2020. The video has been viewed more than 10 million times.
The video combines photo of a car accident with photos of Ali Khan Hyderabadi.
The post is captioned: "Ali Khan Hyderabadi Death in car accident ??#foryou #burhan_tv #standwithkashmir #accident #alikhan".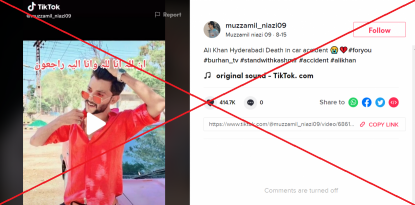 A screenshot of the misleading TikTok post
The same video was also shared on Facebook here and on YouTube here.
The claim, however, is false.
As of October 2020, Khan is alive and has been active on his TikTok account in the weeks since the false claim was made. 
Khan, who has more than 6.5 million followers, posted videos of himself on his TikTok profile here and here on October 21, 2020. His videos continue to garner hundreds of thousands of views. 
The social media influencer is also active on his Instagram account. Khan appeared to celebrate his birthday on October 20, posting corresponding content on Instagram here and on TikTok here. 
Khan also received media attention in the months after the false death claim was made, as reported here by a Pakistani entertainment site.  
The TikTok user who made the video falsely claiming that Khan had died later stated that the claim was untrue. The user posted the follow-up video on TikTok here on September 8, 2020. 
"Nothing happened to Ali Khan, brothers. Ali Khan is alive, he uploads videos daily, you guys watch them, like them, and comment on them. Everyone's asking 'what happened to Ali Khan?' Nothing happened, it was just a video nothing else," the TikTok user said.