Image shows former head of Rwanda's presidential guard being arrested, not a TPLF leader
After Ethiopia's government announced it had stripped immunity from prosecution for officials of the Tigray People's Liberation Front (TPLF), an image of a man in handcuffs was widely shared on social media with claims that it showed a leader of the Tigray region's dissident ruling party being arrested by the Ethiopian army. However, the claim is false. No TPLF leaders have been arrested so far, while the man in the image is Tom Byabagamba, the former head of Rwanda's presidential guard.
The image was posted on Facebook on November 26, 2020, two weeks after the Ethiopian parliament stripped immunity from prosecution for TPLF members, including its president, Debretsion Gebremichael.
Fighting in Ethiopia's northern Tigray region, rooted in prolonged tensions between local leaders and the federal government, escalated when Tigray held its own elections in September, defying a nationwide ban on polls due to the coronavirus pandemic. 
Tensions erupted when Ethiopian Prime Minister Abiy Ahmed ordered his military into Tigray in November after accusing the TPLF of an attack on a federal army camp. The TPLF denied the accusations.
The image shared on Facebook shows a man in a green prison uniform wearing handcuffs and surrounded by four soldiers. The soldiers all have red berets, similar to those worn by soldiers in Ethiopia's national army. 
Screenshot of the misleading Facebook post, taken on December 15, 2020
Written in Amharic, the post's caption translates into English as: "So it begins. #Breaking victory news. The red beret commando is apprehending the Junta leaders from their hideouts. Remember!! This will continue. Victory for our national defense forces. #Sharethis".
On November 13, 2020, Abiy announced that arrest warrants had been issued for members of the TPLF. Local media shared a list that includes the names of 64 TPLF officials as well as 32 high-ranking members of TPLF's army and police forces.
However, none of those listed have been arrested so far, and the image used in the misleading Facebook post is unrelated to the current situation in Ethiopia. 
What the image shows
AFP Fact Check ran a reverse image search and found that the image shows Tom Byabagamba, the former head of Rwanda's presidential guard, who was arrested in 2014.
Byabagamba was convicted of withholding evidence in March 2016 and was sentenced to 21 years in jail (later commuted on appeal) and a reduction in rank. According to military prosecutors, Byabagamba had attempted to turn military officials against the government. 
The image used in the Facebook post can be found in this BBC report discussing new charges brought against Byabagamba in November 2020. He was accused of stealing a mobile phone in an attempt to escape from prison and was sentenced to three more years behind bars, bringing his new jail term to 18 years.
Screenshot of a November 2020 BBC report, taken on December 15, 2020
A search on YouTube using keywords "Tom Byabagamba" and "2020" revealed a video report from Rwandan media outlet Umuseke that shows Byabagamba arriving at the court in a military convoy.
Byabagamba is seen exiting a police van and walking up the same stairs seen in the misleading post on his way into the court, then back down on his way out.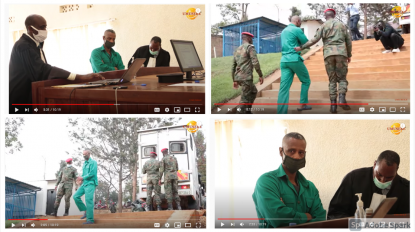 Tom Byabagamba appearing in court, screenshot from YouTube taken on December 15, 2020
Ethiopia conflict
Abiy has refused calls for mediation to end the conflict with the TPLF, which has driven 50,000 refugees into Sudan and left thousands dead, according to the International Crisis Group think tank. 
Abiy declared victory after federal troops took the regional capital Mekele in late November, saying hostilities were "completed".
The first international aid convoy arrived in Tigray's capital on December 12, 2020, according to the International Committee of the Red Cross.
The European Union is postponing nearly €90 million ($110 million) in budget support payments to Ethiopia because of the conflict, according to an internal document seen by AFP.