This image shows an actor who died in 2017, not a pastor requesting money to give New Year's blessings
Multiple posts on Facebook and across blogs in Nigeria and Kenya have been shared alongside the image of a sick man receiving treatment. According to the posts, the man was beaten by a congregation of people who claimed he asked for money to give New Year's blessings. But this is false; the image does not show a pastor in 2022, it shows a Nigerian actor who died in 2017.
One of the posts claimed that Pastor James Mugo asked his church members to pay N16,000 ($39) for him to unlock blessings in 2022. In response, church members beat up the pastor, who ended up in hospital, according to the post.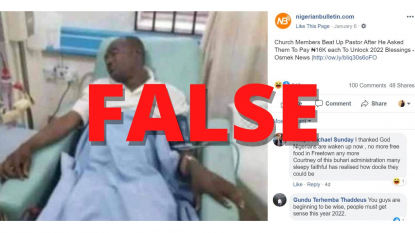 A screenshot taken on January 11, 2021, shows the false post
Similar posts showing the same image were shared here, here, and here on Facebook. Blogs in Nigeria -- here and here -- also claim that Mugo is the general overseer of the Wings of Blessings Africa Church.
Image shows late Nollywood actor
AFP Fact Check found no online record of a Wings of Blessings Africa Church or a Pastor James Mugo. All reports with any links to the names were published on or after January 4, 2022. The earliest version of the post we found was from a "personal blog" on Facebook. According to this version, the church is in Embu, a municipality in Kenya.
Multiple reverse image searches showed that the picture shared alongside the posts has been on the internet since 2017. The man in the picture is Adeshina Adesanya, a Nollywood actor popularly known by his stage name "Pastor Ajidara". The picture was taken while he was receiving dialysis treatment, and posted by his colleague on Instagram in May 2017.
 

 

View this post on Instagram

 
Adesanya died in 2017 after suffering kidney failure and his death was reported across major news platforms in Nigeria here, here and here. 
This is not the first time Adesanya's image is used to peddle misinformation. In 2020, his image was used to share claims that a Nigerian pastor "went to China to destroy coronavirus" (sic) but ended up contracting the virus. AFP debunked that claim here.