The photo has been doctored to show Raila Odinga's son wearing a shirt endorsing rival political party
Facebook and Twitter posts have shared an image of Raila Odinga Junior, the son of veteran Kenyan politician Raila Odinga, wearing a United Democratic Alliance (UDA) shirt. Users allege that he supports UDA, the party of his father's political opponent, Deputy President William Ruto. But the claim is false: the image has been digitally altered to add the party logo.
The image was published on Twitter on December 16, 2021, on an account with more than 8,000 followers.
A screenshot of the false tweet, taken on January 11, 2022
It was also shared in this Tweet, receiving over 150 likes and 20 shares, and on a Facebook page with nearly 13,000 followers.
Odinga, who announced in December 2021 that he would make a fifth bid for the presidency in Kenya's general elections scheduled for August, is expected to run against Ruto.
"This is Raila's son With UDA merchandise (sic)," the Twitter post says.
But AFP Fact Check found that the image has been digitally manipulated: the original photo does not show Raila Junior wearing a shirt with 'UDA' written on it.
Image of Odinga and son 
A reverse image search led to the original image of Odinga and his son reading through a newspaper on December 10, 2021 – the day Odinga announced his candidacy for the presidency.
In the photo, Raila Junior is wearing a yellow plain shirt, black pants and a navy blue jacket. He shared the picture on his official Twitter and Facebook accounts.
"Always learning, always ready... Azimio la Umoja here we come," he wrote in the caption.  Azimio la Umoja is the name of the coalition party Odinga is using to run for presidency.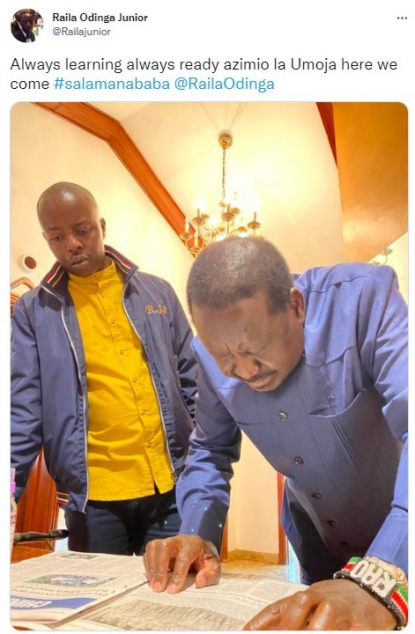 Screenshot of original photo shared by Raila Odinga Junior on his official Twitter account, taken January 11, 2022
There has been an increasing amount of misinformation as Kenya gears up for the 2022 general elections. Claims debunked by AFP Fact Check can be found here, here and here.