Posts falsely claim FEMA required Covid-19 vaccinations for tornado relief
Online articles claim the US Federal Emergency Management Agency (FEMA) took advantage of tornadoes that devastated parts of western Kentucky to require Covid-19 vaccination in exchange for assistance. This is false; the federal agency says its efforts -- which include search and rescue as well as distribution of supplies -- are not predicated on vaccination, and a local official confirmed FEMA's role.
"FEMA Arrives in Tornado-Stricken Kentucky--With VACCINATIONS," says the headline of a December 13, 2021 article on the Real Raw News website, which has made false claims that have previously been fact-checked by AFP.
The article claims that FEMA "brought more Covid-19 vaccinations than it did blankets, food, and bottled water," and alleges that an anonymous source from the agency said: "We're literally turning away the walking wounded if they won't get a shot."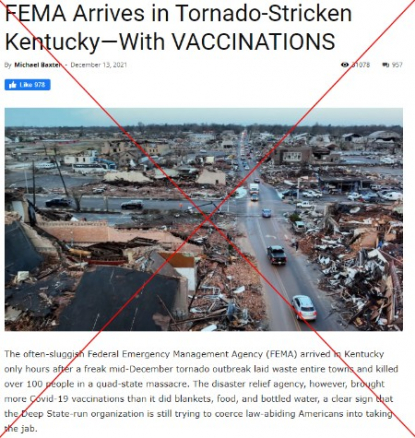 Screenshot of a Real Raw News article taken on December 16, 2021
The article, which was also published on another website and spread on social media, came just days after tornados ripped through western Kentucky and other US states, leaving dozens of people dead and thousands homeless.
"The premise is false," FEMA spokeswoman Jaclyn Rothenberg told AFP in response to the claims.  "Vaccination status does not determine whether or not survivors receive supplies and support."
FEMA has helped survivors apply for federal assistance, and has also distributed water, meals, cots and generators, she said.
"FEMA continues supporting vaccination sites by providing expedited financial assistance, providing federal equipment and supplies, and deploying federal personnel to states, tribes, territories, and other eligible applicants for vaccination efforts," she added.
The agency's vaccination campaign in the state, which began in February 2021, remains unchanged.
An AFP reporter who covered the tornado's aftermath on the ground and interviewed FEMA staff at work in the town of Mayfield said that the agency made no mention of vaccination being linked to disaster assistance.
Social media posts highlighted federal efforts to assist Kentucky residents affected by the tornado, with search and rescue teams and providing generators in areas without power.
We continue to support Kentucky tornado survivors while monitoring the severe weather in the Midwest. If you're in the path of storms, stay safe & check on your neighbors. Our thoughts are with people across the country facing these devastating disasters. pic.twitter.com/NEbDXPTqKy

— FEMA (@fema) December 15, 2021
Katie Schaller-Ward, assistant city manager at Bowling Green, told AFP: "FEMA has come through and they're going be here setting up, but I've heard nothing about vaccination requirements."
FEMA is "helping with individuals if necessary and providing assistance to public facilities and local government as we try to clean up," Schaller-Ward added.
On a visit to the devastated area on December 15, President Joe Biden said the federal government would foot 100 percent of the bill for emergency relief for the next 30 days and will continue to do "whatever it takes, for as long as it takes."
In addition to federal aid, more than 500 National Guard troops have been deployed to help with law enforcement, traffic control and recovery, along with volunteers and associations on the ground to support victims.
AFP Fact Check has debunked other inaccurate claims about FEMA here.