Image shows school girl receiving certificate for essay assignment, not returning R40 million in cash
An image of a school girl receiving a certificate from a South African policeman has circulated in viral social media posts with the claim that she was recognised for handing in a bag containing R40 million ($2.48 million) in cash. However, the claim is false; the child was with a group of students who were each presented with a certificate for completing a school assignment held in conjunction with a local police station.
Facebook posts here and here shared more than 40,000 times since being published on November 30, 2021, show a police officer and a school girl posing for a picture while she holds up a certificate. One of the posts included a second image of a bag appearing to contain bundles of notes.
A screenshot of the false Facebook post, taken on December 6, 2021
"A grade 8 learner from Seanamarena High School in Soweto awarded a certificate after picking up a bag with R40million and handed over to the Police," reads the post's caption.
"The Seanamarena High School learner was issued an 'Good Citizens Award' this morning after allegedly picking up a bag with approximately R40-million and taking it to the police. 
Learner said she didn't take the money because she wants to focus on her studies, and not money (sic)."
This is false.
School assignment
A reverse image search of the picture found news articles (here and here) telling a different story.
One of the reports named the policeman in the picture as Constable BN Malaza. The report quotes Malaza denying the claim circulating on Facebook. 
"'The SAPS (South African Police Service) in the region gave assignments early this year to the class and we nominated top learners who were named as the Junior Station Commanders," Malaza reportedly told local news outlet EBNewsDaily. "I'm worried that people are already peddling false information about this picture."
Malaza tweeted the  image of the pupil receiving a certificate on October 13, 2021 – before the claims circulated.
Then, on November 30, 2021, when the claims about the missing cash were published on Facebook, Malaza responded on Twitter with a denial and a picture of four pupils who received certificates. 
"There's no such a thing," reads Malaza's tweet, "I've never been to Soweto I'm in Mpumalanga, we gave this certificates to four learners after they passed the assignment we gave them and @ZandileExcel just created this story (sic)".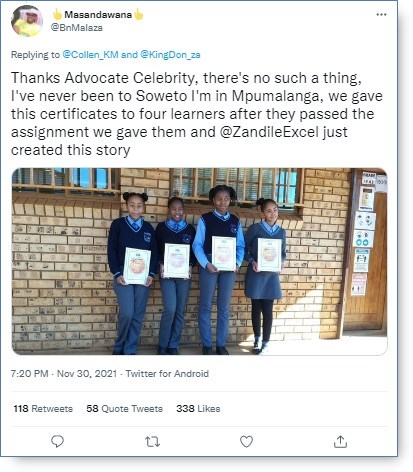 A screenshot of Malaza's tweet reply, taken on December 6, 2021
The @ZandileExcel Twitter account that Malaza referenced is no longer active.
A screenshot of the deleted Twitter account, taken on December 6, 2021
AFP Fact Check confirmed Malaza works at the Chrissiesmeer police station near the town of Ermelo in Mpumalanga province. Soweto is in Gauteng province.
The station's official Facebook page published a picture of Malaza in 2018 when he joined the staff.
AFP Fact Check contacted Malaza, who confirmed the claim was entirely fabricated. 
"This project was on June 25, here in Mpumalanga at Chrissiesmeer, a small town next to Ermelo … I've never been to Soweto," Malaza said.
The assignment to write two essays was given to about 50 local pupils. Four were chosen for their standard of work: one child from Lake Chrissie Secondary School and three from Warburton Combined School. 
Malaza said he had been bombarded with calls about the missing money and has even switched his phone off for days at a time. 
Meanwhile, Lake Chrissie High School's grey and blue uniform, seen in this 2018 video, looks similar to SeanaMarena High School in Soweto.