Thai school says students were already attending in-person classes before PM's pandemic visit
A photo of Thai Prime Minister Prayut Chan-O-Cha posing with schoolchildren has been shared hundreds of times on Facebook alongside a claim the children were forced to attend school for his visit, despite Covid-19 rules that they should study at home. The claim is misleading: the school told AFP that its students had never switched to online classes during the pandemic because local virus infection rates were low.
This image was posted on Facebook here on October 17, 2021.
The post's Thai-language caption translates to English as: "[Prime Minister] you paused online studying and forced the students to come and welcome you. Tu, you burden people wherever you go."
Former army chief Prayut Chan-O-Cha, who seized power from a democratically-elected government in 2014, is commonly referred to by supporters as "Uncle Tu".
The image shows a group of masked schoolchildren sitting in rows in an open-sided building.
Prayut -- who is also wearing a facemask -- can be seen standing in the foreground dressed in a suit.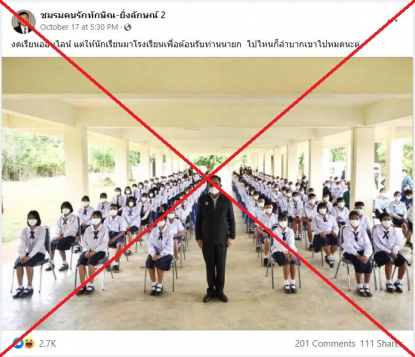 Screenshot of the misleading Facebook post, taken on October 26, 2021
Some Facebook users who commented on the post appeared to believe that students were forced back to school in order to welcome the prime minister.
"Should have welcomed him online," said one comment. "Why did the students have to come?" said another.
The image has been shared alongside a similar claim on Facebook here and here.
However, the claim is misleading.
Low infection rates
A reverse image search on Google found the picture shared in the misleading posts was also published in this report by One31, a Thai television station, on October 15, 2021.
The report says that the Prime Minister visited the Sisaengtham schoolto look at renewable energy projects and observe classes on October 15, 2021.
The school's founder and headteacher Phra Panyawachira Moli told AFP on October 25, 2021, that it had been conducting classes on-site prior to the Prime Minister's visit.
"The posts that said the Prime Minister forced students to come to school to welcome him are not true," the headmaster said.
"We have continued teaching classes normally at our school as the Covid-19 infections in our district aren't high and our school formally submitted a request to local officials [to remain open]," he explained. "Our school never adopted the online classes policy."
Compulsory closures only apply to schools in provinces with high Covid-19 infection rates, according to an announcement in January from the Ministry of Education.
The province of Ubonratchathani in northeast Thailand -- where the school is situated -- was not on the high-risk list. 
Announcement of the Ministry of Education of Thailand

The Closure of Educational Institutions Affiliated with and under the Supervision of the Ministry of Education due to Special Circumstances

More information can be found at https://t.co/B5Buc8BkDe. pic.twitter.com/fM1wO2w99z

— PR Thai Government (@prdthailand) January 2, 2021
However, even schools not in high-risk zones have to seek permission for students to study on-site and officials carry out an inspection before classes are allowed to take place.
On October 17, 2021, Phra Moli also posted on Facebook to explain the image of the children with the Prime Minister had been shared in a misleading context.
The middle school caters to students aged 13 to 18 years old and teaches mainly agricultural engineering, Phra Moli told AFP.
Return to the classroom
The Thai government announced in a Facebook post on October 27, 2021, that it was preparing to allow all schools to resume on-site classes once 85 percent of teachers and students were vaccinated.
On October 19, 2021, Education Minister Treenuch Thienthong said approximately 40 percent of students aged 12-17 had received Covid-19 jabs.
Prayut has been a constant target of misinformation in Thailand. AFP has previously debunked claims related to the Thai Prime Minister here, here and here.