This is a doll, not a real baby in South Africa
Facebook posts and articles purporting to show the "world's darkest baby" born in South Africa have resurfaced in recent months. But this is false: the picture, which has circulated in misleading claims since at least 2015, is of a doll sculpted by US artist Lilah Pearson.
Facebook posts like here and here have been shared hundreds of times since June 2021, reviving the old claim.
"The darkest baby in the world born in South Africa," reads a post from a user in the Philippines. 
Screenshots of the false Facebook posts, taken on September 28, 2021
The comment section showed that while some believed the baby to be real, others thought it resembled a doll.
A screenshot of one of the Facebook post's comments, taken on September 28, 2021
The claim has been shared in various ways, mostly referring to South Africa, and with a variety of pictures, such as in this archived YouTube video.
A composite of various images that usually accompany the false claim, taken from Facebook posts on September 29, 2021
A reverse image search of the picture initially leads to similar blog articles in multiple languages (including here and here) of a South African baby that allegedly holds the record as the world's darkest or blackest baby.
The articles speculate over whether or not the baby is real but don't give a verdict. 
A Google search of fact checks related to the claim led to this 2015 debunk by US verification website Snopes. The reporters found that the claim had been circulating since June that year and traced it to a doll created byartist Lilah Pearson.
Pearson's website is currently inactive but her Instagram and Pinterest pages show similar-looking sculptured dolls, posed in the same fashion under a board titled "Polymer clay sculpture - my art". 
A screenshot of Lilah Pearson's Pinterest board, taken on September 29, 2021
AFP Fact Check has contacted Pearson and will update this debunk in case of a response. 
However, her dolls and clothes can be found on Etsy and eBay.
One of Pearson's dolls currently sold out on Etsy, the "OOAK Baby Sculpted Polymer Clay Monkey Gorilla Doll Poseable Miniature", has similar blacked-out eyes, dark complexion and hairstyle to the one seen in the false Facebook posts.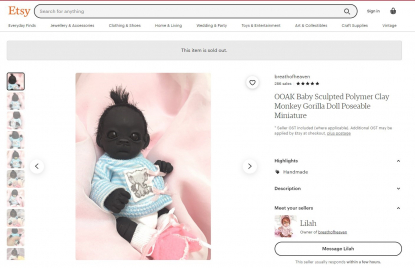 A screenshot of the doll on Etsy, taken on September 29, 2021
"Welcome! BreathofHeaven specializes in One of a Kind dolls. Boys, Girls, Fairies, monkeys and more! Also clothes for OOAK babies and similar size dolls as well as doll bodies (sic)," her store's description reads on eBay. The abbreviation OOAK stands for "one of a kind".