Misleading Nicki Minaj tweet spreads Covid-19 vaccine impotence fears
Rapper Nicki Minaj suggested on Twitter that Covid-19 vaccines can cause male impotence, saying a relative's friend in Trinidad suffered that condition as well as testicular swelling after being immunized. But the country's health minister said no such incident was reported, and experts told AFP that the shots have not been found to affect fertility or male genitalia.
"My cousin in Trinidad won't get the vaccine cuz his friend got it & became impotent. His testicles became swollen," Minaj tweeted on September 13, 2021.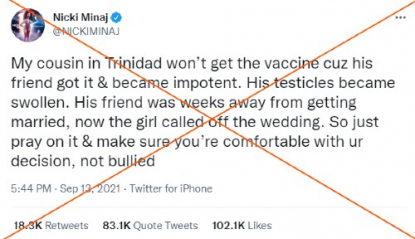 Screenshot of a tweet taken on September 14, 2021
The rapper, who was born in Trinidad and grew up in New York City, sent the tweet about Covid-19 vaccination during the 2021 Met Gala, which required full immunization for attendance. She is not vaccinated and did not attend, instead writing online on the topic of the shots.
The tweet with the impotence claim was retweeted more than 24,000 times, liked more than 138,000 times, and spread as a screenshot on Instagram and Facebook.
It is just one of many inaccurate claims about vaccines impacting fertility that have spread across the internet and harmed uptake of the shots as countries around the world push to immunize their populations against Covid-19. AFP Fact Check has debunked a series of such claims, including here, here and here.
"As we stand now, there is absolutely no reported such side effect or adverse event of testicular swelling in Trinidad," the Caribbean country's health minister, Dr Terrence Deyalsingh, said in response to Minaj's tweet at a news conference on September 15.
"What was sad about this is that it wasted our time yesterday, trying to track down, because we take all these claims seriously," Deyalsingh said.
Tony Chen, a clinical assistant professor of urology at Stanford University, agreed, saying that "there is no evidence that Covid-19 vaccines lead to male erectile dysfunction or infertility," adding that there is also "no evidence that Covid-19 vaccines would cause swelling of the testicles."
Instead, he said that swelling of the testicles is more commonly caused by viral infections such as mumps or bacterial infections such as sexually transmitted infections, something already pointed out to Minaj on Twitter.
Chen also referred to a recent study from the University of Miami that compared the semen samples of healthy volunteers before and two to three months after receiving two doses of either the Moderna or Pfizer-BioNTech vaccines, "and they didn't find any negative impacts on any semen parameters."
In fact, it is being infected with Covid-19, which is more likely for the unvaccinated, that "could cause serious problems in the male genitalia," he said.
Michael Eisenberg, director of male reproductive medicine and surgery at Stanford, also mentioned the University of Miami study, and likewise said there is no evidence of the vaccines harming fertility.
Helen Bernie, director of sexual and reproductive medicine at Indiana University, made the same point about vaccines not affecting neither fertility nor male genitalia, while also criticizing the misinformation that "has gone around about the efficacy and safety of the vaccines."
She did note that no studies have assessed the impact on male fertility of non-mRNA vaccines, which account for two of the three shots approved in Trinidad and Tobago.
"I am not aware of any data done yet on the live non-mRNA vaccines," Bernie said.
"However, we routinely use other live-attenuated virus vaccines such as the MMR, varicella, rotavirus and others and there has never been a correlation with infertility and these vaccines. As such, I see no reason why the Covid vaccine would impact fertility either," she said.
September 16, 2021 This article was updated to add remarks by the Trinidad and Tobago health minister.