Olympic athletes could take ADHD medication in Japan with exemption
Social media posts claim that Japan's restrictions on drugs used to treat attention deficit hyperactivity disorder (ADHD) prevented gymnast Simone Biles from taking necessary medication during the Olympics in Tokyo. But anti-doping agencies and Team USA say athletes could apply for an exemption to the restrictions.
"Ritalin and Adderall is 100% illegal in Japan under all circumstances including therapeutic use," said a July 28, 2021 Instagram post that linked the restrictions to Biles' withdrawal from several events in Tokyo competition, due to mental health issues.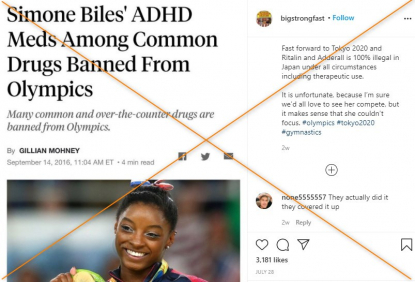 A screenshot of an Instagram post taken on August 16, 2021
Other examples of the claim appeared on Facebook here and here and on Twitter here.
Although Japan has strict regulations on bringing stimulants into the country -- including drugs regularly used to treat ADHD -- Olympians could obtain an exemption.
International Testing Agency (ITA) communication manager Marta Nawrocka told AFP the substances contained in Adderall and Ritalin -- commonly prescribed for ADHD -- are present on the World Anti-Doping Code's prohibited list .
Amphetamine "is prohibited in competition. It is a non-specified stimulant. Methylphenidate is prohibited in competition. It is a specified stimulant," Nawrocka said.
"If an athlete needs to take one or the other compound, he/she will need a valid Therapeutic Use Exemption," she added.
Tadokoro Katsushi of the Japanese anti-doping agency confirmed that "in Japan, amphetamine is banned by law."
"Only athletes participating in the Tokyo 2020 Games with Therapeutic Use Exemption (TUE) under the World Anti-Doping Code, are allowed to bring Adderall (amphetamine) into Japan for their own medical treatment," he said.
A document on Team USA's website also indicated that it was possible to obtain an exemption.
"A special arrangement is in place specifically for the Tokyo 2020 Olympic and Paralympic Games to allow athletes taking these medicines for therapeutic use, and with an approved Therapeutic Use Exemption, to import personal supplies for the treatment of their medical condition while they are in Japan," it said.
In 2016, leaked confidential medical athlete data related to the Rio Games, including Biles' personal information, disclosed she had been granted an exemption to take medicine to treat ADHD. She then confirmed in tweets that she had ADHD and took medication for it.
But while 24-year-old Biles pulled out of some events during the Tokyo Olympics, she did not mention problems with access to medication when discussing why she chose not to compete. She has also said that she had not taken ADHD medication since 2017.
AFP Fact Check previously debunked other inaccurate claims related to the Tokyo Olympics.