This is actually an old footage from London 2012 Olympics
A video has surfaced in multiple social media posts which claim it shows the US national flag falling down at a medal ceremony during the Tokyo 2020 Olympics. The claim is false: the video was in fact filmed at the London 2012 Games.
"Tokyo Olympics, the US national flag fell down," reads the text superimposed on a video posted on Douyin, the Chinese version of TikTok, on August 8, 2021.
"The US's luck has come to an end. Everyone applauded. The one who hates the American most is actually the Japanese."
The video shows the US national flag being raised, as the Star-Spangled Banner plays in the background. The flag suddenly falls down, leaving the crowd gasps in surprise.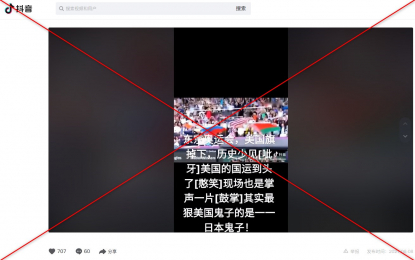 A screenshot, taken on August 11, 2021, of the misleading post.
The same video was shared in similar posts on Douyin here and here; on Weibo here; and on Facebook here and here.
However, the claim is false.
A Google reverse image search found the same video posted here on YouTube on August 7, 2012 in a video titled, "THE EPIC FAIL OF THE YEAR! U.S. flag falls during the Olympic ceremony at the London 2012".
The video description reads, "The U.S. flag falls during the national anthem after the victory of Serena Williams over Maria Sharapova at the Olympic tennis match."
A screenshot, taken on August 11, 2021, of the YouTube video.
Below is a screenshot comparison of the video in misleading posts (L) and the YouTube video from 2012 (R):
A screenshot comparison of the misleading video and the YouTube video. ( AFP)
The incident happened as the then newly-crowned Olympic singles gold medallist Serena Williams was watching the stars and stripes flag being raised, AFP reported at the time.
A strong gust of wind blew the flag off its metal pole and into the crowd below, before Williams turned to joke with Russian tennis star Maria Sharapova as the American national anthem played on in the background.
US media outlet NPR also reported on the mishap in an article published on August 4, 2012.