This video shows a military simulation, not an attack on Nigerian troops
A video of armed men in civilian clothing exchanging fire with a group of uniformed men has been widely circulated on social media. Numerous posts purport that the footage shows militants in Nigeria's oil-rich Niger Delta region attacking and killing troops. However, the claim is false: the clip shows a simulation exercise conducted by the country's navy.
On August 12, 2021, Nigerian online media Sahara Reporters published the video in a report claiming that gunmen attacked and executed Nigerian security forces. The article, archived here, has since gone offline.
"BREAKING: Niger Delta Avengers Attack Nigerian Navy, Kill Security Operatives," read the article's headline. It was later posted on Twitter, Instagram, and  Facebook, where more than 700 people shared the post before it was deleted.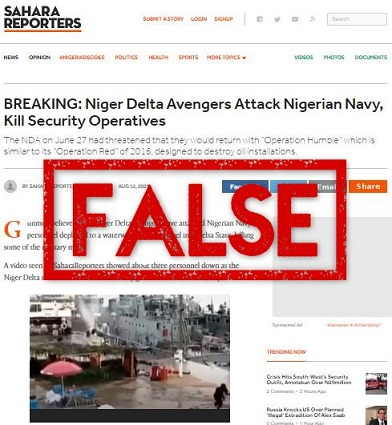 Screenshot taken on August 13, 2021, showing the publication on Sahara Reporters' website
"Gunmen believed to be Niger Delta Avengers have attacked Nigerian Navy personnel deployed to a waterways security vessel in Bayelsa State, killing some of the military men," the article read. 
Popular Nigerian entertainer Samuel Oguachuba, otherwise known as Samklef, also shared the same footage on Instagram alongside a similar claim. The artist has been the subject of previous debunks by AFP Fact Check, including one about a claim that an alleged kidnapper had been sentenced to death in Nigeria and another about a manipulated image of a CNN anchor.
Niger Delta Avengers
The Niger Delta Avengers (NDA) is a militant group in Nigeria's Niger Delta, an oil-rich but impoverished region located in the country's south. These militants, who demand a fairer share of oil revenue for locals, has claimed responsibility for several violent attacks, including kidnappings and the destruction of oil installations.
The conflict was temporarily halted in 2009 when Africa's largest oil-exporting nation introduced an amnesty programme, which included cash payments. However, the group threatened a return of attacks in June 2021, claiming neglect. 
However, there is no evidence that rebels recently attacked the country's navy. 
Military simulation
AFP Fact Check traced the footage to a video uploaded on YouTube on August 11, 2021, described as a ceremony in which gunboats were given to the navy. 
At the top right-hand corner of the video is the watermark for Nigerian energy conglomerate AITEO Group. The company donated the equipment to the Nigerian military on August 4, 2021, according to naval chief Vice Admiral Awwal Gambo.
Nigerian daily newspapers ThisDay and Tribune reported on the event, which included a military simulation by the Nigerian Navy Special Boat Service.
The exercise, which demonstrated a  tactical response to a kidnapping situation, is featured in the clip that was shared out of context by Sahara Reporters and in social media posts. 
The red umbrella, blue chairs, tent housing the "hostage", and other matching features can be seen in both videos.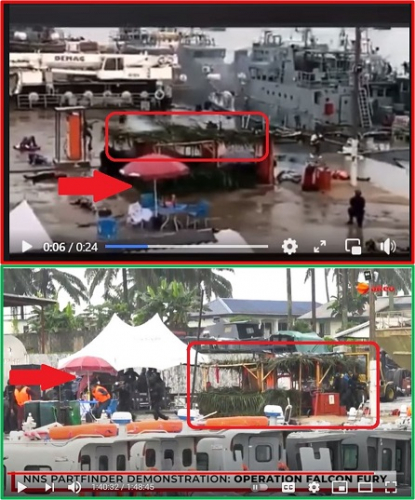 Screenshots from both videos showing matching details
The Nigerian Navy's Directorate of Naval Information also uploaded a similar video on YouTube and Facebook, which also includes footage from the simulation exercise. 
Furthermore, the Nigerian military dismissed the claim circulating on social media. Navy spokesman Commodore Suleman Dahun sent a statement to media organisations in Nigeria, including AFP.
"The Nigerian Navy wishes to categorically state that the video clip in question is a simulated assault on a militant's location by Nigerian Navy Special Boat Service, and only a disreputable news media would gobble such as fit for publication".
EDIT 13/08/21: Fixes spacing in paragraph six