Covid-19 vaccines do not contain graphene
A video of a substance in a petri dish responding to an electrical current has been viewed hundreds of times in Instagram posts which claim the substance is graphene which makes up "90 percent" of Covid-19 vaccines. The claim is false; the clip shows an experiment using ball bearings and castor oil recreated by students at Stanford University. Graphene is not present in Covid-19 vaccines, experts said.
"This is 90 percent of the contents of the covid V/\X," reads an Instagram post from July 27. "Can you imagine having this in your body?"
The video shows a petri dish full of what appears to be tiny spheres assembling themselves into branched wires when an electrical current is applied.
The video's subtitles claim it shows "how graphene reacts when exposed to electromagnetic discharges" and that 5G "causes graphene to behave aggressively in the human body".
"This nanomaterial that had been silently introduced into the population through physiological saline, vaccines (Pfizer, AstraZeneca, Moderna, and Vaxigrip Tetra), masks, PCR tests, and other administration routes under investigation," the Instagram post reads.
A screenshot of the misleading post. Taken August 4, 2021
Graphene is a common one-atom-thick layer of carbon which is arranged in a hexagonal lattice. When stacked on top of each other, the layers form the basis of graphite, which is found in pencil tips.
The video has been shared alongside similar claims here, here and here.
However, the claim is false.
The video was originally posted on YouTube by the Stanford Complexity Group -- a Stanford University student club that disbanded in 2018 -- and features an experiment involving ball bearings in a petri dish full of castor oil.
A Stanford University spokesperson said the social media posts misinterpreted the video.
"The club's original video does not show unique research but a recreation of a demonstration by Alfred Hubler, using steel ball bearings, not nanoscale graphene particles as the Instagram post indicates," the spokesperson said.
During the video, the narrator explains that the petri dish has a negatively charged metal ring and is filled with castor oil and ball bearings. A lead attached to a large-voltage power supply is also hung above the petri dish.
After a charge is applied, the balls -- which start in the centre of the dish -- begin to form chains and spread out to the edges, mimicking the footage found in the misleading video uploaded to social media.
The original demonstration by Professor Alfred Hubler can be seen in a video posted by the University of Illinois.
See a keyframes comparison showing the video shared in misleading posts (left) and the original YouTube video (right) below.
Screenshot of misleading Instagram video taken August 5, 2021.
Screenshot of Stanford Complexity Group YouTube video, taken August 5, 2021.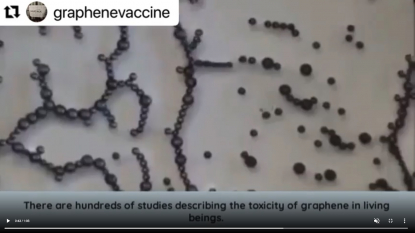 Screenshot of misleading Instagram video taken August 5, 2021.
Screenshot of Stanford Complexity Group YouTube video, taken August 5, 2021.
There is no mention of graphene during the Stanford Complexity Club video and ball bearings are typically made from steel, according to multiple sources (here, here and here).
Graphene in Covid-19 vaccines
Experts said that Covid-19 vaccines did not contain graphene or graphene oxide.
"No vaccines on the market [are] based on graphene oxide," Dr Park Jong-bo, a researcher at Biographene, a company that develops graphene-based medicine, told AFP.
The claim that commercially available vaccines were made up of graphene oxide is inaccurate, Professor Hong Byung-hee, an expert in nanomaterials at Seoul National University said.
"Graphene is being tested for biomedical purposes, including for vaccines, but these applications are still in an experimental phase and a long wait is expected before they become commercially available following clinical trials," he told AFP.
A list of vaccine ingredients published by the World Health Organization shows that no authorised Covid-19 vaccines contain graphene or graphene oxide. The list includes the ingredients for the AstraZeneca, Janssen, Moderna, Pfizer-BioNTech, China's Sinopharm, Sinovac, CanSino and Anhui Zhifei, Russia's Sputnik and India's Bharat Biotech vaccines.
AFP has previously debunked false claims about graphene and Covid-19 vaccines here and here.