Nigerian president claims government lifted millions out of poverty in two years, but evidence says otherwise
Nigeria's President Muhammadu Buhari alleged his government had lifted 10.5 million people out of poverty in the last two years, in a speech on June 12, 2021. AFP Fact Check studied the available data and found no evidence to support his claim. 
In 2019, Buhari said his government could help 100 million people escape poverty with "leadership and a sense of purpose". Two years later, he claimed his goal was on course.
"In the last two years we lifted 10.5 million people out of poverty – farmers, small-scale traders, artisans, market women, and the like," Buhari said in his Democracy Day address on June 12, 2021. The public holiday commemorates the day the military handed over power to an elected civilian government in 1999.
Poverty in Nigeria
Data compiled by the World Bank, which includes input from Nigeria's statistics agency, shows that poverty has actually widened in Africa's most populous nation since 2019 when Buhari was re-elected.
In fact, local and world media were already reporting a year earlier that Nigeria had overtaken India in the global poverty stakes (here, here and here), indicating a rising trend.
A comprehensive survey on poverty by Nigeria's National Bureau of Statistics (NBS), the first of its kind in a decade, estimated that by 2019, some 82.9 million people in the country were living in poverty on less than a dollar a day.
Map: Poverty in Nigeria by state -- Borno state excluded ( NBS / )
This sum equates to less than half of what the World Bank terms the international poverty line of $1.90 a day.
Did Buhari uplift 10.5 million Nigerians?
Figures gathered on behalf of the World Bank by a project called the World Poverty Clock (WPC) contradict Buhari's claim.
According to the WPC, 77.9 million Nigerians were living in extreme poverty in 2019, a number that had risen to 86.8 million by June 2021. 
Homi Kharas, co-founder of the World Data Lab which runs the WPC, said their poverty estimates for Nigeria were computed from various sources, including the NBS.
He added that the 2020 poverty report released by the NBS was the first fresh dataset in 10 years, although it excluded Borno state because of a terrorist insurgency in the region.
"This provided valuable new information on poverty in Nigeria," Kharas said.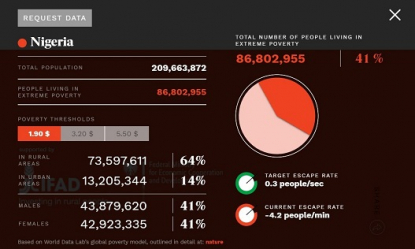 Poverty estimates for Nigeria in 2021 ( NBS / )
World Bank: 7m Nigerians entered poverty in 2020
A few days after Buhari's speech, the World Bank released its Nigeria Development Update (NDU), which reported that seven million Nigerians fell into poverty as a result of rising prices.
"As of April 2021, the inflation rate was the highest in four years. Food prices accounted for over 60% of the total increase in inflation. Rising prices have pushed an estimated seven million Nigerians below the poverty line in 2020 alone," the World Bank said. 
In 2020, the Nigerian economy slipped into a recession as a result of the Covid-19 pandemic and low oil prices, which affected big and small economies across the world. The recession led to higher unemployment in Nigeria. As of March 2021, unemployment rose to 33.3% – the highest in more than a decade. 
While the World Bank acknowledged the government's push for reforms to mitigate the economic crisis, the Bretton Woods institutions said "inflation is exacerbating poverty in Nigeria".
Experts say Buhari's claims inaccurate
None of the nation's economic indicators showed such big gains in the fight against poverty, according to economists.
Bongo Adi, a professor of development economics at the Lagos Business School, said the Nigerian economy was experiencing "stagflation", a term used to describe a declining economy with rising inflation. As a result, "many more people are poor," he added.
Wilson Erumebor, a senior economist at the Nigerian Economic Summit Group (NESG), said the pandemic had dealt a blow to Nigeria's fight against poverty and unemployment.
"There are two ways to lift people out of poverty. The first is through job creation, the other is through skill development. And if you look at these areas, we have not been doing well as far as Nigeria is concerned. 
"Even before Covid, the World Bank said about 2 – 2.2 million Nigerians would be added into poverty. How much more when there is Covid? We are talking about close to seven to eight million people added into poverty." 
Erumebor said that while there were various ways of measuring poverty, Nigeria's poverty line is 380 naira ($0.92) per day. 
"If you convert it to dollars, right now, [with] all these exchange rate differentials, it is less than one dollar per day. And then when you consider inflation, what N380 can buy today is not what N380 could buy two years ago."
Nigeria's economic growth
In his speech, Buhari also alleged that the implementation of his Economic Sustainability Plan (ESP) resulted in positive growth in the second quarter of 2020 and the first three months of 2021. The ESP was introduced by the Nigerian government on June 24, 2020, to mitigate the effects of the Covid-19 pandemic on the economy.
"Though marginal, we have recorded GDP growth over two quarters: second quarter of 2020 and first quarter of 2021," Buhari said. "This is evidence of a successful execution of the Economic Sustainability Plan by the federal government."
But, contrary to Buhari's claims, the Nigerian economy recorded growth only in the first quarter of 2021.
Using Nigeria's latest Gross Domestic Product (GDP) data from the NBS, AFP Fact Check found that Nigeria's economy actually contracted in the second quarter of 2020 by 6.10 percent. However, the economy grew marginally in the first quarter of 2021 by 0.51 percent.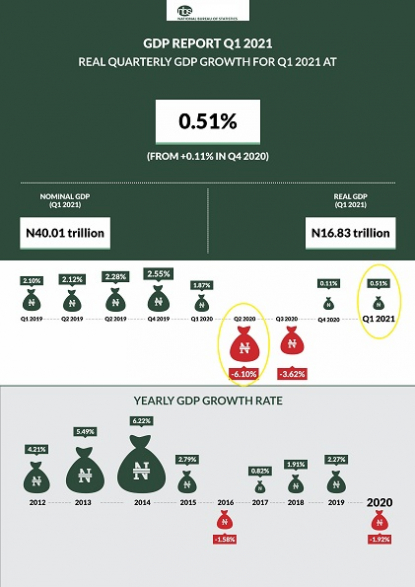 Screenshot showing Nigeria's economic growth ( NBS / )
The data shows that Buhari's claims about economic growth and poverty eradication in Nigeria are false.