Online scammers circulate images of boy with health issues to defraud Facebook users
Two images showing a boy with what appears to be a severely bloated neck are circulating in multiple social media posts alongside a caption asking for donations for his medical treatment. However, AFP Fact Check found that many of the social media posts using these images are fraudulent. While a registered charity asked for donations to fund the boy's medical bills, scammers have repurposed the photos shared by the organisation and changed his name to defraud Facebook users.
One of the images shows the boy sitting shirtless on a hospital bed and another shows him in a jersey standing next to a car.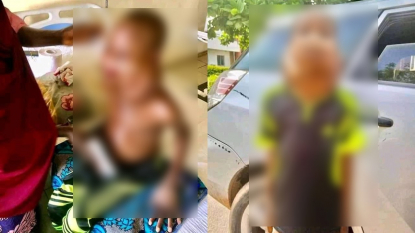 Screenshots of the two image shared on Facebook; the child's face was blurred by AFP
The photos were shared in numerous Facebook groups alongside a claim that the little boy had "Congestive neck Failure (sic)" but needed "a corrective heart surgery".  
"A word from Jerry's mom," reads the caption on one of the Facebook posts, referring to the boy as Jerry. "Jerry has been on drip and oxygen for the past 2 months now since on the 21/1/2021, it has not be easy buying oxygen because, he can't breathe (sic)."
Screenshot taken on June 22, 2021, showing the Facebook post; the child's face was blurred by AFP
The Facebook post goes on to ask people to donate to an account belonging to "Rosemary Patricia Harrison" at Access Bank, one of Nigeria's biggest banks.
The post has garnered more than a thousand comments since publication on June 3, 2021. Many of the comments include prayers and wishes for the boy's quick recovery.
But in reality, this  post and others like it are being shared by online scammers to defraud unsuspecting internet users. 
Source of the photos
The images were originally shared by an Abuja-based NGO called Global Intiative for Peace, Love and Care (GIPLC) that asked for donations to cover the boy's medical bills. However, scammers have taken these photos and created a fraudulent fundraising campaign.  
Through multiple Google reverse image searches, AFP Fact Check found the earliest versions of the viral photos, which appeared in April 2021 posts published by GIPLC's Facebook page. 
"The Global Initiative for Peace Love and Care (GIPLC) is a non-governmental, non-faith based, not for profit organization in Nigeria," according to the organisation's website. The group supports children with "critical medical conditions".
AFP Fact Check confirmed that the organisation is registered with the Nigerian government. A search for "Global Initiative for Peace Love and Care" on the website of Nigeria's Corporate Affairs Commission found the organisation has an active registration status.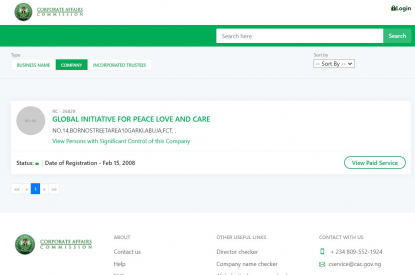 Screenshot taken on June 22, 2021, showing the search result ( Oluwasegun OLAKOYENIKAN)
The first image was published on GIPLC's Facebook page on April 26, 2021, while the second was published four days after, both in posts referring to the boy as Ishaq, not Jerry. A post from March 2021 shows the boy beside Nuhu Kwajafa, GIPLC's founder and national coordinator.
"Life is not worth living if we allow 12yr old Ishaq Usman die like this…(sic)," the post reads. "Ishaq needs series of dialysis and surgery that will cost N3m [about 6,000 USD] (sic)."
On April 20, 2021, GIPLC said its fundraising goal had been reached but said that an additional 130,000 naira (about 316 dollars) was required to purchase four pints of blood and medication. 
"I was so happy to see Ishaq smiling today. We were able to get him a standing fan, generator, provisions, and food. Next week his bed will be ready. No matter what, Ishaq shall live well, even though he has just a little more time here on earth. Please let us continue to pray for him," reads GIPLC's latest Facebook post about the boy, published on June 6, 2021.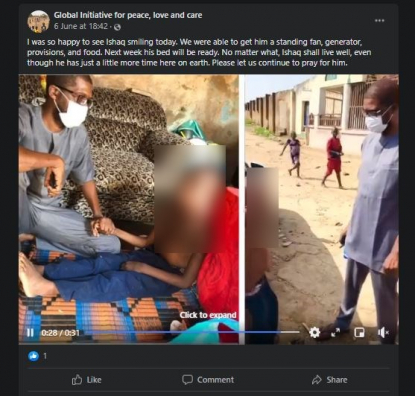 Screenshot taken on June 24, 2021, showing the Facebook post
AFP Fact Check has reached out to GIPLC and Kwajafa for further information. We will update this report if we get a response.
Recirculating scam
Using social media monitoring tool CrowdTangle, AFP Fact Check found that the viral story about "Jerry" has appeared online previously in other posts. The recent scam also features bank accounts belonging to individuals whose names have previously featured in similar dodgy posts.
Screenshot taken on June 22, 2021, showing the search results on CrowdTangle; the child's face was blurred by AFP
We found that the same viral storyline has been circulating online since at least August 19, 2020. However, details such as the ailment, names, dates and bank information were modified on numerous occasions.
For instance, while the posts claim the boy was admitted at Crystal Specialist Hospital, the location of the health facility differs.
In addition, a search for the owner of one of the bank accounts, "Rosemary Patricia Harrison", led to numerous Facebook posts seeking funds to treating people with health issues. We have archived some of the posts here, here and here.