How a Facebook page conned Kenyan drivers seeking new licences
A Facebook page with more than 10,000 followers has conned Kenyans trying to replace their old driving licence with a new smart licence being rolled out by Kenya's National Transport and Safety Authority (NTSA). The page, called "NTSA DL," recently went offline after the authority warned the public it was fraudulent -- but not before multiple people were conned over the course of several months. One driver told AFP he lost 10,000 Kenyan shillings (nearly 100 US dollars).
Kenya's transport authority has set a deadline of July 1, 2020, for all drivers in the east African country to replace their booklet licences with the new generation of smart driving licences, which contain a chip with all the driver's information.
The "NTSA DL" Facebook page (archived here by AFP) was created on August 4, 2019, and while it is not clear who operated it, the page's transparency section indicated that it was run from Kenya. 
Everything about the page looked authentic to unsuspecting users: it regularly posted NTSA graphics and event photos, and its "About" section included a link to the official NTSA website.
Screenshot of the fraudulent Facebook page, taken on February 19, 2020
But on February 13, 2020, the NTSA warned drivers that this Facebook page was fraudulent.
On its official Facebook page, which is linked to from its website, the NTSA wrote: "The Public is advised to be aware of individuals purporting to be issuing Smart Driving Licences through a Facebook page titled *NTSA DL*. The Authority does not manage such a page and has reported the matter to the relevant government agencies for their action.
"As investigations are undertaken, we urge members of the Public not to transact through that page and request anyone who has been conned through it or the mobile number 0724604121 to report to the nearest police station."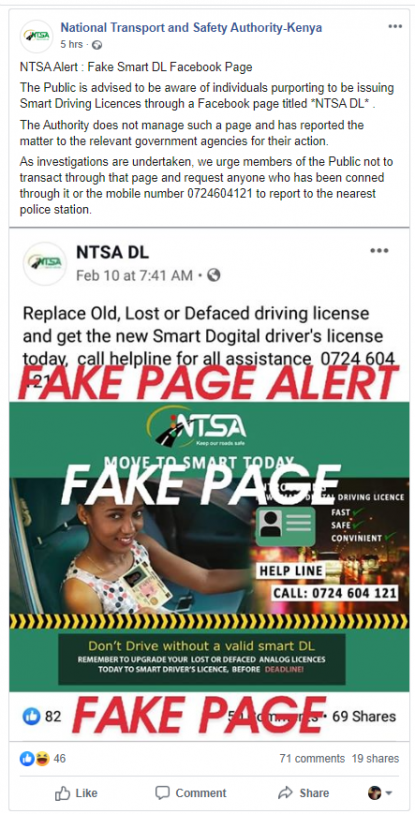 Screenshot of the NTSA Facebook post warning about a page called "NTSA DL," taken on February 19, 2020
NTSA has an online portal, the Transport Integrated Management System (TIMS), through which the public can access an array of services related to driving licences, vehicle log books, and more. However, malfunctions have led to frustration for some people trying to access these services.
It is for this reason that when Eunice Kingathia, a novice Kenyan driver, saw on Facebook that there was a page offering assistance for drivers looking to obtain their new-generation driving licences, she hastily contacted the phone number provided.
"My details were not reflecting on the NTSA portal and when I contacted NTSA using the phone number provided on their official website, the calls went unanswered," she told AFP. "So when I came across the phone number on the 'NTSA DL' Facebook page I decided to contact it to find out if I can be assisted. The person on the other side of the line identified himself as John and he gave me a contact of a man named Nyaga whom he said would be in a position to hasten the process for me."
After sending 3,500 Kenya shillings (about 35 US dollars) to another phone number, which the man going by the name of "Nyaga" provided, and exchanging numerous WhatsApp messages with him, she suspected she might have been conned when "Nyaga" started taking her in circles when the driving licence failed to arrive. 
"Nyaga gave me another phone number registered under the name Brian Ngumbau where I was to send the money via MPESA (a mobile phone-based money transfer service)," she said.
Kingathia's fears were confirmed when she searched for the name "Brian Ngumbau" on Facebook and came across a post on a public Facebook group by an online user named Alex Mutembei warning the public that the man was a fraudster. He noted that the conman also went by the name Nyaga.
Screenshot of a Facebook post by Alex Mutembei, taken on February 19, 2020
AFP contacted Mutembei, who said that he was conned out of 10,000 Kenyan shillings (about 99 US dollars) in a similar manner when he tried to obtain a new-generation licence.
Two more Kenyans told AFP similar stories of being conned through the Facebook page. Fredrick Mawira and Bernard Otieno said they were conned out of 3,500 Kenyan shillings (about 35 US dollars) and 1,800 Kenyan shillings (about 18 US dollars) respectively.
Mawira, who was applying for a public service vehicle licence, at first believed that the process was legitimate because a picture of his supposed new driving licence was sent to him via WhatsApp, pending a delivery that never took place.
Screenshot of WhatsApp conversation between Fredrick Mawira and Brian Ngumbau, taken on February 19, 2020
AFP has contacted NTSA to find out when the scheme first came to its attention, and whether the fraudsters' identities are known to the authority, but has not received answers to these questions.