With Holocaust comparison, misleading Facebook post claims Bill Gates seeks 'digital tattoos'
A post shared more than 160,000 times on Facebook during the novel coronavirus pandemic says Bill Gates wants "digital tattoos" to check who has been tested, and asks if it would be "like holocaust victims have." This is misleading. Gates has spoken of the need for "digital certificates" for vaccination and testing but there is no evidence he has been in favor of a visible mark, like a tattoo. The Bill & Melinda Gates Foundation also said the claim is false. 
"Bill Gates wants 'digital tattoos' to check who has been tested," a May 4, 2020 Facebook post says. "You mean a tattoo like holocaust victims have, Mr Gates?" it adds.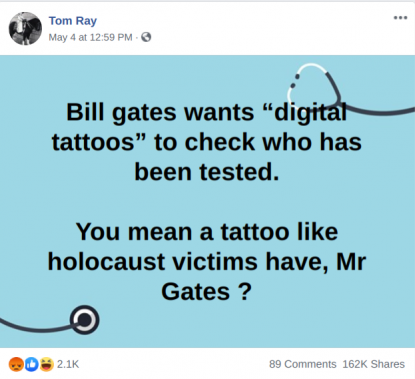 A screenshot of the Facebook post taken on May 12, 2020
"I think that's called the mark of the beast," one Facebook user wrote in the comments, in apparent reference to biblical text. 
"Does he not have the comprehension to know that would be exactly what they did to the Jews?" another wrote.
AFP found no evidence, as of May 12, 2020, of Gates, the Microsoft billionaire, publicly supporting a tracking method comparable to a mandatory physical mark, visible to the naked eye.
The claim may stem from from this study published in December 2019. It was conducted by the Massachusetts Institute of Technology and partially funded by the Gates Foundation. The study says MIT researchers have developed a way to store medical information under the skin, using "a quantum dot dye," a technique that could be particularly beneficial in developing countries that lack medical records infrastructure. The dye, delivered by a microneedle patch at the same time as the vaccine, remains invisible to the naked eye, the study explains. 
"We wanted to create something very simple (...) also that was more private in a sense that it didn't really link somebody's name with medical history anywhere," Dr Ana Jaklenec, a MIT research scientist, told AFP in a phone call. "It's invisible, there is really no way to track it," she said.
The claim in the post, however, compares the "digital tattoo" to the one "holocaust victims have," in reference to the marks used by Nazi Germany, when SS authorities started tattooing the bodies of inmates with a camp serial number. The tattoos were ink-based, and first printed across the chest of inmates, then later on their left forearm.
During the COVID-19 pandemic, Gates has made references to potential solutions for keeping track of coronavirus testing and vaccinations, including through digital certificates, like in this Q&A he hosted on Reddit in April. 
The tech titan has been a leading voice on the push for a vaccine to combat COVID-19, the disease caused by the novel coronavirus, pledging $50 million as part of broader funding that has made him a target of anti-vaccine campaigners.
Asked by AFP about the Facebook post regarding digital tattoos, a spokesperson for the Bill & Melinda Gates Foundation said in an email: "This claim is false. "
Multiple conspiracy theories concerning Gates and the novel coronavirus have emerged, the latest being a manipulated photo debunked by AFP USA. Posts about a letter said to have been written by the billionaire were debunked by AFP fact checkers in Hong Kong, and warnings about a "Bill Gates vaccine," were proven by AFP Ethiopia to be false, given there is no such treatment.
The novel coronavirus pandemic has killed some 284,000 people worldwide, since it emerged in China in late 2019.