French doctor did not urge Africans to avoid a "Bill Gates vaccine"
A post shared hundreds of times on Facebook claims that Didier Raoult, a French specialist in infectious diseases, is urging Africans "not to take Bill Gates vaccine" against coronavirus as it contains "poison". This is false: the institute which Raoult directs denied he ever made these claims; moreover, no vaccine yet exists against coronavirus.
"Urgent. Didier Raoult calls on Africans not to take Bill Gates vaccine to fight Corona virus" [sic]. This message was shared thousands of times on Facebook across Africa, mainly in French but also in an English translation.
The post refers to Dr Didier Raoult, a French infectious disease specialist who has recently made headlines for recommending treating COVID-19 — the disease caused by coronavirus — with a derivative of the anti-malaria drug chloroquine.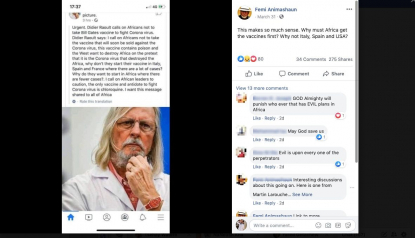 Screenshot of misleading Facebook post, taken on April 4, 2020
This poorly-written Facebook message claims that Raoult called on Africans "not to take the vaccine that will soon be sold against the Corono virus as it contains poison (sic)" and goes on to claim that "the West wants to destroy Africa disguised under the Corono virus [sic]".
The message claims that Raoult said: "Why don't they start their vaccine in Italy, Spain or France, where there are a lot of cases? Why do they want to start in Africa where there are fewer cases? I call on African leaders to caution, the only vaccine and antidote to fight the Corono virus is chloroquine (sic)."
The misleading Facebook post ends with a plea: "I want this message shared to all of Africa. " The comments left by Facebook users show that some, though not all, believed the post's claims.
"God Almighty will punish who ever that has EVIL plans in Africa (sic)," reads one comment.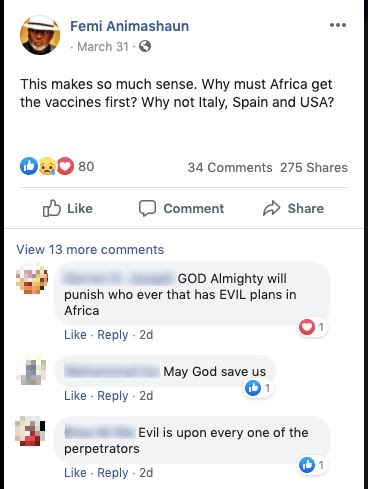 Screenshot of comments below misleading Facebook post, taken April 4, 2020
With more than 11,000 cases and 572 deaths by April 9, numbers in Africa remain low compared to Europe, which at the same time has seen confirmed cases top 772,000, with more than 61,000 deaths.
World Health Organization's regional director for Africa, Matshidiso Rebecca Moeti, warned that the spread of the virus is undergoing a "dramatic evolution".
Claims rejected
Mediterranee Infection Institute, a research centre based in Marseille, France, and directed by Raoult, denied the claims.
A spokesman for the institute told AFP that "Professor Didier Raoult did not say this; it's a false quote".
On March 28, 2020, Raoult published a study concerning the benefits of chloroquine and hydroxychloroquine-based treatments — commonly used to treat malaria — against COVID-19.
According to Raoult and his team, 80% of the 80 patients involved in the study saw "positive developments". This study followed an initial one conducted on 24 patients.
Both studies faced the same criticism: they did not involve a control group, meaning a group of infected patients who are not given the treatment.
France's  National Agency for the Safety of Medicines and Health Products warned about the serious side effects caused by drugs tested against COVID-19 (including chloroquine and hydroxychloroquine) and reminded the public not to self-medicate "under any circumstances".
In the United States, President Donald Trump expressed high hopes for a chloroquine-based treatment against COVID-19 and claimed the treatment "to be one of the biggest game-changers in the history of medicine". He added it would be a "gift from heaven if it works".
However, the claims made in the Facebook posts are false. Chloroquine is not being tested as a vaccine but rather as a treatment for patients who contracted COVID-19.
"We are still very far from having a working vaccine"
There are no treatments against COVID-19 that have yet been approved by leading health bodies, nor does any vaccine exist. Dr Richard Mihigo, Program Area Manager at WHO Immunization and Vaccines Development, told AFP on March 30 that "sadly, we are still very far from having a working vaccine".
The development and approval of such a vaccine are not expected until next year at the earliest.
"As with all new diseases, the scientific community is mobilised in finding a vaccine against this pandemic. So far, the research is still preliminary. While we have several candidates in preclinical stages, developing, testing and approving a vaccine can take several years," Mihigo said.
"There are several types of candidates for the preclinical phase, of which two will move on to phase 1: one to be developed by the Moderna laboratory in the U.S., and one in China  (CanSinoBIO)."
US pharmaceutical company Johnson & Johnson also announced on March 30, 2020, that it has chosen a potential vaccine to test on humans by September and that it may be used for emergency cases before the end of the year.
Mihigo stressed that no vaccine test nor campaign was planned for the African continent.
"We've seen these claims flourish on social networks, but there is no truth to them," he said.  "Sadly, we've already seen this in the past, and sharing misleading information does more harm to people than good. Our collective effort should focus on minimising the effects of coronavirus on the population rather than misinforming the public, which could lead to unnecessary panic."
Donations from the Bill & Melinda Gates Foundation
The misleading post also claims that US billionaire Bill Gates is behind a "vaccine" against coronavirus that will "soon be sold".
The Bill & Melinda Gates Foundation announced they would invest 100 million dollars in the fight against coronavirus. But no vaccine has yet been created.
In an interview given to the website Reddit, Gates expressed doubts that a vaccine would be available for another 18 months. A transcript of this interview was also published on Gates' website Gatesnotes.
He said that "a therapeutic could be available well before a vaccine".
"We will need literally billions of vaccines to protect the world. Vaccines require testing to make sure they are safe and effective," stressed Gates.
"The first vaccines we get will go to health care workers and critical workers," Gates continued. "This could happen before 18 months if everything goes well but we and ... others are being careful not to promise this when we are not sure. The work is going at full speed."
Screenshot of Gatesnote website, taken on March 21. 2020
Since December 2019, when the outbreak began in China, 1.5 million people have been infected with COVID-19 globally and more than 87,300 have died.