Hoax reports falsely claim popular Filipino comedian Jose Manalo is 'dead'
A claim that Philippine television host and comedian Jose Manalo is dead has been shared in multiple Facebook, YouTube and blog posts since April 1, 2021. The claim is false: Manalo is "alive, well and kicking" according to his management team, and has appeared in live episodes of his television show after the hoax circulated. The posts that shared the false claim also contain a doctored news report.
A photo of Manalo with the text "R.I.P. Jose Manalo 1966-2021" was posted here on Facebook on April 1, 2021.
The post has been shared more than a hundred times since.
Its Tagalog-language caption reads: "Eat Bulaga mourns the sudden demise of Ariel Pagtalonia Manalo a.k.a. "Jose" Watch this news>>".
Eat Bulaga refers to a popular variety show on Philippine television which has been on air since 1979. Ariel Pagtalonia Manalo is the birth name of comedian Jose Manalo.
The Facebook post includes a link that leads to a blog bearing the logo of Philippine broadcast media company GMA.
A video clip with the logo of GMA's evening news program 24 Oras (24 Hours) showing Manalo's photo is embedded on the blog.
However, the video only runs for one second when played, enough to hear the reporter announce someone has died, but not the person's name. 
Screenshot of hoax report taken on April 13, 2021
The video was also shared alongside a similar claim here on YouTube; and in blog posts here and here. The video has been viewed more than 220,000 times since it was posted on April 1. 
The claim, however, is false. 
Still alive
Malou Choa-Fagar, Manalo's manager and retired executive of the variety show, confirmed to AFP through a message on April 14, 2021 that the host is "alive, well and kicking."
"You can check out the (Facebook) livestream of (Eat Bulaga)", she added. 
Manalo has been seen in two Facebook live videos in the weeks since the hoax circulated. 
In an April 13 episode of the variety show, Manalo appeared at the 1:50:49 mark, saying he and the other hosts are in their respective houses. 
Manalo also appeared in an April 9 episode of the show through video conferencing with another host. 
Doctored report
Keyword searches reveal the video clip in the hoax report partly corresponds to this January 6, 2021 segment of the GMA news programme 24 Oras. 

The video report was about the death of an official in President Rodrigo Duterte's cabinet, after contracting Covid-19.
The photo on the news anchor's background was doctored to replace the original image with this photo of Manalo found in a 2019 news article by local news site Abante News. 
Below is a screenshot comparison of the doctored report (L) and the original news report (R):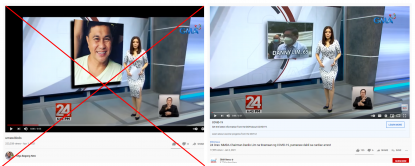 Screenshot comparison