Video that shows burning Nike shoes predates Chinese attacks on the brand
A video has been viewed thousands of times on Weibo, Twitter and Douyin, alongside a claim that it shows a social media user burning Nike shoes in response to the brand's critical stance on Xinjiang cotton. But the video has been shared in a misleading context: it circulated online at least a week before anger at western fashion giants including Nike errupted in China; the social media user who posted the video told AFP the post has "nothing to do with (anger about) Nike".
The video has been viewed more than 3,000 times after it was shared on April 4, 2021 on the Chinese microblogging site Weibo.
The video's Chinese-language caption translates as: "Nike's improper statement on Xinjiang cotton was resisted by the public. A netizen burned all the Nike shoes…What do you think?"
Text overlaid on the video makes a similar claim, and adds: "It is necessary to make a personal statement, but it is unnecessary to burn shoes."
A screenshot of the misleading post, taken on April 9, 2021
The video circulated online as anger against Nike grew in China, starting from March 25, 2021.
On that day, Chinese celebrities, tech brands and state media -- aided by outrage in tightly-controlled social media -- piled in on Nike and other western fashion brands as the country mobilised its consumer market against critics of its actions in Xinjiang, AFP reported.
Rights groups say at least one million Uyghurs and people from other mostly Muslim groups have been held in camps in Xinjiang, where authorities are also accused of forcibly sterilising women and using forced labour.
China denies any abuses, insisting the labour camps are training programmes and work schemes that have helped stamp out extremism and raise incomes.
Xinjiang is one of the world's top cotton-producing areas and supplies textiles to many garment brands. While Nike's statement distancing the brand from Xinjiang cotton was made last year, online outcry against the firm swelled the week of March 25, 2021, the AFP report added.
The video was also shared alongside a similar claim here and here on Twitter; here on Weibo; and here on Douyin, the Chinese version of TikTok.
Screenshots of the video have also been shared here on Twitter; and in news reports here and here.
However, the video has been shared in a misleading context.
A keyword search found an identical video was uploaded on Douyin on March 16, 2021, at least a week before the widespread anger at Nike appeared in China.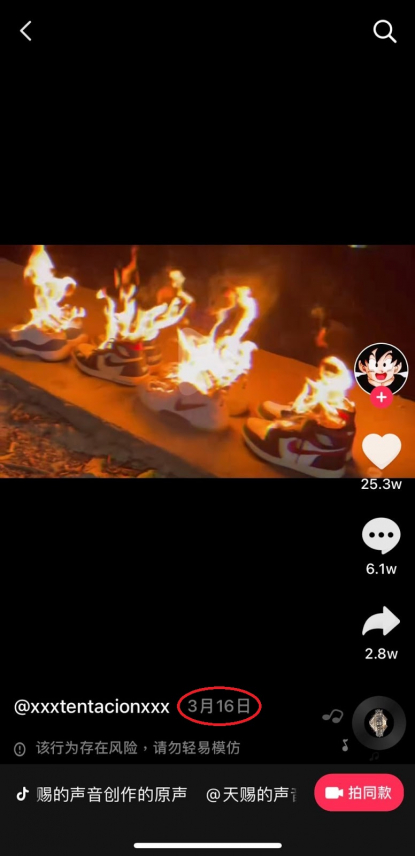 A screenshot of the Douyin video with the date circled
Comments to the Douyin video indicate people thought the shoes were burned out of anger at Nike, but the uploader clarified in a comment: "Please can you guys take a look at the date when this was published? Don't follow the trend blindly."
The uploader who posted the original video, username xxxtentacionxxx, told AFP that the footage had been shared in a misleading context.
In a private message on Douyin on April 13, 2021, xxxtentacionxxx said: "It's my own video, and it has nothing to do with (anger about) Nike. In terms of why I burnt the shoes, I just want to burn them."