Hoax report claims China sought Supreme Court approval to euthanise 20,000 coronavirus patients
An article claiming the Chinese government has sought Supreme Court approval to authorise the killing of more than 20,000 novel coronavirus patients in an effort to curb the growing epidemic has been shared hundreds of times in multiple posts on Facebook, Twitter and Reddit. The claim is false; the article was published on a site that has regularly produced hoax reports, and China has made no such announcement.
Screenshots of the purported article were published here on Facebook on February 6, 2020. 
It shows an article by "City News", headlined "China seek for court's approval to kill the over 20,000 coronavirus patients to avoid further spread of the virus".
The text reads, in part: "The highest level of court in Chhina, Supreme People's Court, is expected to give an approval on Friday [February 7] for the mass killing of coronavirus patients in China as sure means of controlling the spread of the deadly virus."
The novel coronavirus, which emerged in the Chinese city of Wuhan in late 2019 has killed at least 1000 people and infected some 42,000 others in China alone, AFP reported here on February 11, 2020.
Below is a screenshot of the misleading post: 
Screenshot of Facebook post
The post's Tagalog-language caption translates to English as: "Ayyyy This is too much .... it's really euthanasia ... tsk tsk ..."
AFP found the original article seen in the misleading post published here on a website entitled "City News" on February 6, 2020.
Below is a screenshot of the report:
Screenshot of report
The "City News" article was also shared here on Twitter and here on Reddit alongside a similar claim.
The story was also shared by Lagos-based newspaper Independent Nigeria on its social media platforms here and here. The claim also appeared online here in Kenya, as well as here and here in Spain.
The claim is false; the Chinese Supreme Court did not make any such judgement on February 7. 
--Dubious website--
The website where the claim appeared, ab-tc.com, has a history of producing hoax reports.
AFP Fact Check has previously debunked a number of stories from the website, including a series of articles from August 2019 that falsely claimed that police thwarted mass shootings in several US cities, and an article published July 2019 claiming a nightclub in Canada was shut down for selling human meat.
All the articles on the website fact checked by AFP were published with the byline "Local Correspondent", suggesting no direct attribution of stories to specific authors.
Ab-tc.com does not have an "About Us" section with details of who is running the platform. There is also no disclaimer labelling its contents as fiction or satire.
A search of Whois, a public database of domain name registration details, found that the website's domain was registered in Guangdong China with aUS-based Wild West Domains on June 14, 2019.
Below is a screenshot of the results:
A screenshot taken on February 7, 2020, showing the domain information of ab-tc.com
--No evidence of court hearing--
AFP conducted keyword searches on the state-run China Internet Information Center on the proposed government plans, but found no results that matched the claim.
China's Supreme People's Court website also does not mention any related hearings.
Below is a screenshot of the Chinese Supreme Court website's scheduled hearings section. None of the cases are related to the novel coronavirus: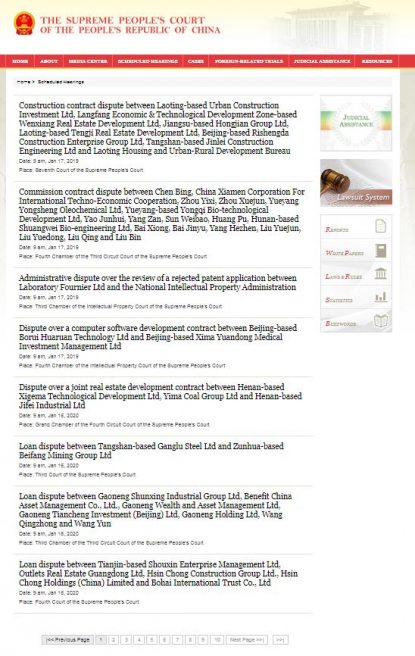 Screenshot of Supreme Court page
The purported court case is also not among the daily situation reports of the World Health Organization.
The false euthanasia in China claim was also debunked by fact-checking websites Snopes and Africa Check.