Hoax posts claim Pakistan's central bank restricted cash withdrawals
A message circulating on social media in Pakistan claims the country's central bank has limited ATM cash withdrawals to 1,000 rupees (6 USD) until January 31, 2021. The claim is false: the State Bank of Pakistan said it has not imposed any such restriction and ATM cash withdrawal limits are decided by individual banks, not by the central bank.
"Dear customer, as per State Bank of Pakistan directions, ATM cash withdrawal limit is restricted to 1000 PKR from 0000 hrs 23 Jan 21 to 0800 hrs 31 Jan 21. Inconvenience regretted," reads a Facebook post published on January 22, 2021.
A screenshot taken on January 26, 2020 of the misleading Facebook post
The same message has been shared in multiple Facebook posts, including here, here and here.
However, the message is a hoax.
The State Bank of Pakistan (SBP) issued a statement on Facebook and Twitter explaining it had not imposed any restriction on ATM cash withdrawals.
"SBP categorically rejects the false message making rounds on social media," it said. "SBP does not put any limit on ATM withdrawal limit. Banks decide about such limits."
1/2 SBP categorically rejects the false message making rounds on social media, attributing to it that ATM cash withdrawal limit is restricted to Rs. 1,000.

— SBP (@StateBank_Pak) January 22, 2021
Individual banks have also warned about the hoax. In a text message to customers, Pakistan's MCB bank said messages claiming that central bank had restricted ATM withdrawal limits were "completely false".
MCB's website gives ATM cash withdrawal limits for different categories of card, which range from 25,000 (150 USD) to 50,000 rupees.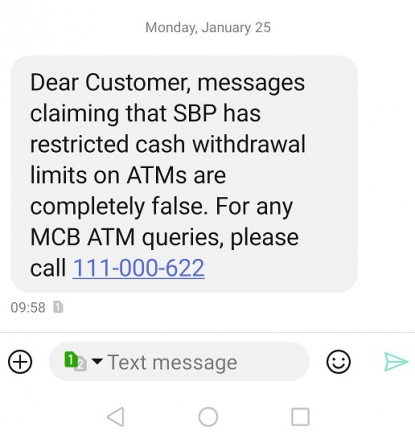 A screenshot of the text message by MCB bank to its customers
Pakistan's Askari Bank gives details of similar withdrawal restrictions on its website.
A journalist at AFP's Islamabad bureau and customer of Standard Chartered Bank (SCB) successfully withdrew 20,000 rupees (125 USD) at an ATM on January 27, 2021, as the receipt below shows.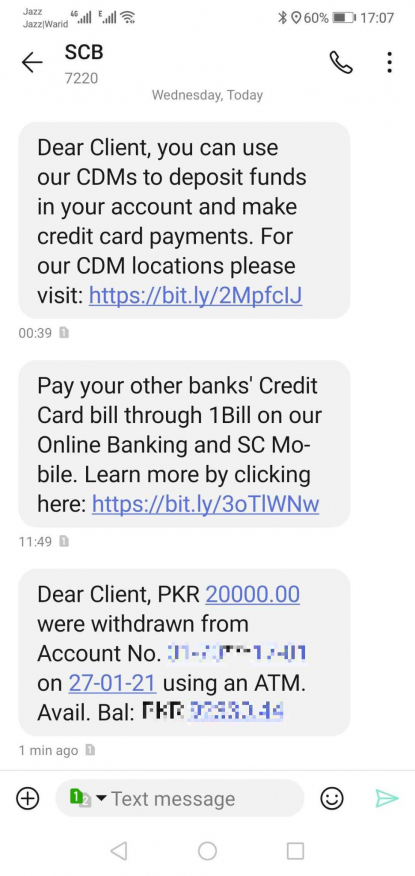 Screenshot of an ATM withdrawal receipt on January 27, 2021