Hoax ballot does not show Nigerian politician's vote for rival
An image of a former chairman of Nigeria's ruling political party has been shared hundreds of times on social media claiming to show him voting for a rival in a recent state election. But the claim is false; the reverse side of the ballot paper in the image has been doctored, with a thumbprint digitally placed next to an opposition party's logo.
"LOL! EVEN Oshiomhole is voting for @GovernorObaseki!" reads a tweet by PDP Vanguard, a Twitter account that supports Nigeria's main opposition People's Democratic Party (PDP).
An image in the post shows the former chairman of the country's ruling All Progressives Congress (APC) party Adams Oshiomhole casting his vote during a local election in Edo state on September 19.
The PDP's Godwin Obaseki secured a second term as state governor.
Screenshot taken on September 21, 2020, showing the misleading tweet
The ballot paper in the image appears to show Oshiomhole endorsing his political adversaries, the PDP.  
The tweet has been liked more than 600 times since it was published minutes after the majority of polling stations closed at 3 pm. 
The claims were shared hundreds of times on Facebook.
Former APC national chairman Adams Oshiomhole served two terms as governor of Edo state until 2016 when he supported Obaseki -- who at the time was an APC member -- to succeed him. 
But when Obaseki defected to the PDP after his relationship with Oshiomhole soured, the latter rooted for the APC's Osagie Ize-Iyamu to unseat him in the election.
Manipulated photo
The photo has been digitally manipulated to include a ballot thumbprint that appears to indicate that Oshiomhole voted for the PDP.
Using the social media monitoring tool CrowdTangle, AFP Fact Check found video clips published by Nigerian daily newspapers The Punch and Vanguard, as well as TV station Television Continental, that show Oshiomhole casting his vote. 
Footage shows Oshiomhole dropping his ballot paper into the ballot box. However, unlike the hoax social media posts that claim to show his thumbprint, Oshiomhole conceals his voting choice from the public, showing the back of his ballot paper. 
By magnifying the image, AFP Fact Check found that a line supposedly demarcating the political parties on the ballot extends beyond the paper and onto the box.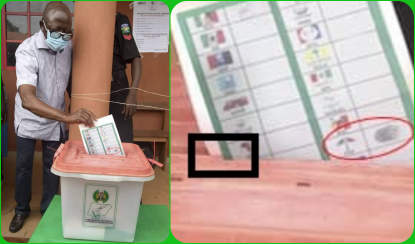 A screenshot of the hoax image taken on September 21, 2020, and magnified to show how the ballot was altered
AFP Fact Check ran a reverse image search and found the original image in this tweet by online news site Premium Times.
Comparison screenshots taken on September 22, 2020, show Oshiomhole with his original ballot paper, left, and the doctored version
It clearly shows that the back of Oshiomhole's ballot paper is blank.
False claims have been spreading on social media about the Edo election. AFP Fact Check recently debunked footage claiming to show a war brewing in the state prior to the election.