This footage has circulated online since July 2020 in reports about an ammonia leak in India
A video has been viewed tens of thousands of times in multiple Facebook and Twitter posts that claim it shows medical oxygen being deliberately wasted in India despite a deadly second wave of Covid-19 infections. The claim is false: the video has circulated in reports since July 2020 about an ammonia gas leak in India.
The 25-second video was published here in a Facebook post on May 14, 2020.
The post's Hindi-language caption translates to English as: "Shame on Rajasthan, Congress. People are dying due to lack of oxygen in the whole country today, but on the other hand, the Congress-led government in Rajasthan ordered more than the required oxygen from the Modi-government and emptied the tanker as they have no storage capacity. This video is from Jaipur. The Congress is a party of vultures who do politics on dead bodies. They are in the politics of murdering people to remove the Modi government. You may get destroyed."
Congress is a reference to India's main opposition party, the Indian National Congress (INC), which is the ruling party in India's western state of Rajasthan. Modi refers to Indian Prime Minister Narendra Modi.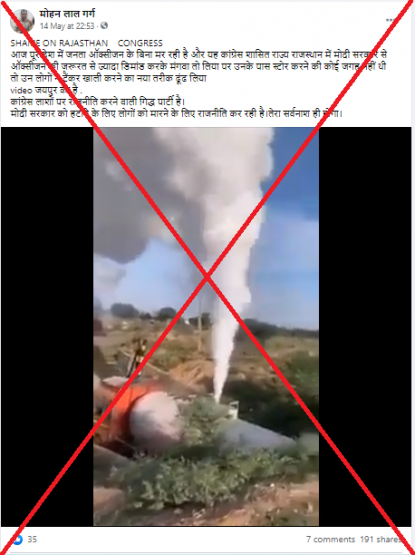 Screenshot of the misleading Facebook post taken on 19 May, 2021
The misleading posts circulated online as Indian suffered an acute shortage of medical oxygen in hospitals. The death toll from Covid-19 in India rose exponentially in April and May 2021, AFP reported.
The video was also shared alongside an identical claim here, here, here and here on Facebook; and here, here, here and here on Twitter.
The claim, however, is false.
A combined search using keyframes from the video -- extracted using digital verification tool InVID-WeVerify -- and keyword searches found this report by Hindi daily Patrika on July 24, 2020.
Screenshot of media report
The report contains an embedded video report with footage that matches the clip shared in the misleading Facebook post.
Below is an image comparing screenshots of the video shared in the misleading Facebook post (L) and Patrika's report (R):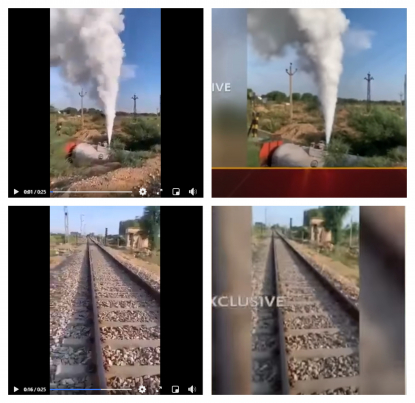 Image comparing screenshot
The report states that an ammonia gas-filled tanker was accidentally unlocked after it hit an underpass in Jaipur city in Rajasthan on July 24, 2020.
The accident was also reported here and here by other major Hindi dailies -- Hindustan and Dainik Bhaskar. The reports used similar images to the video shared in the misleading posts.